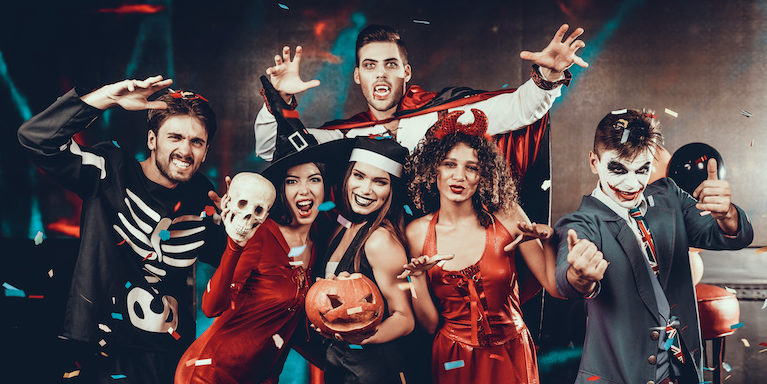 The best Halloween nights out in the UK!
Have fun at Halloween with online loans from Loans 2 Go…
Halloween is fast approaching and those of us with young families will be preparing for the great annual trick or treat! If you need ideas for costumes and activities that don't cost the earth then check out our article Ten Fun Things to Do This Halloween.
But what if you are looking for a fun evening out this Halloween that is suitable for adults and/or older teenagers? We've been scouting around and come up with ten of the best Halloween nights out around the country!
Open from 18th October to 2nd November this multi-award winning event includes scare attractions, immersive street theatre, a fire, laser and light show, an escape room, paintballing, fairground rides and – new for 2019 an interactive maize field shooting experience. There are also plenty of bars to enjoy food and drink, and live music. Tickets from £13.50.
Running from 28th September to 3rd November, Thorpe Park's Fright Nights are legendary. Tickets for a one day pass to Thorpe Park start at £33 online (though always look out for vouchers and special offers. Your ticket gives you access to the Park during the day and passes for Fright Night, with an additional 7 scare mazes and attractions. You can also pay more to upgrade to a Halloween short break, which includes the chance to try the horrifying Halloween escape room!
Between 25th and 31st October pay a visit to Scone Palace in Perth to take part in Spirits of Scone, a fright-fest like no other. The Palace grounds are transformed into a place of terror, where menacing ghouls and horror film freaks lurk in the woods and hide in the maze. You are welcome to wear fancy dress as well and enjoy an evening of fun and horror, fuelled by hearty fare at the Fright Night Cafe. Prices from £17.50.
On Thursday 31st October, the Skylight Rooftop bar opens its rooftop ice rink for the winter with a fun Halloween Bash. Tickets start from only £5 and include a free drink on arrival, Halloween themed ice performances, Halloween games and trick or treat locations, prizes for best costume and a DJ all night long.
Set in the grounds of an old haunted nursery behind Kirkleatham Museum, Scream Factory is the North East's largest scare event. Running from 11th October to 1st November, the immersive experience features all the horrifying sounds, odours and backdrops that you would expect to find on a Hollywood movie set. Ticket prices from £20.
Featuring five scare attractions and live entertainment, Screamfest runs from October 10th to November 2nd. Attractions include Insomnia, Hillbilly Joe's Zombee Zoo, Dia de los Muertos, Love Hurts and Freakout, and there is plenty of food and drink available – plus a demon DJ – to make the evening even more fun. Tickets from £10.
Flambards' Masked Ball has grown to become one of the largest Halloween parties in Europe. This year the theme is American Horror Story. For one night only – Saturday 2nd November – tickets do not come cheap (£57.50) but you will enjoy a myriad of different rooms, dancefloors, dens and hidden bars , all with their own entertainment and DJs. Not to be missed!
Terror Mountain returns for its 5th year of horror. Set in a genuine Victorian silver mine, it is running from 18th-31st October. Terror Mountain offers five live action horror attractions, scary entertainment and much more. You will encounter zombies, demons and flesh-eating freaks. Live entertainment and delicious food and drink are also in abundance. Prices start from £19. 
From 26th October to 1st November this fabulous festival welcomes you like no other. Supernatural beings and the souls of the dead flood into the City, for a variety of ghoulish events and frightful fun. Some events are suitable for all the family, others for adults only. Look out for Awakening the Walls and the Heart of Samhain. On Thursday 31st October there is a free Halloween Ball Disco at the City Hotel. From 22:00 you can enjoy music and dancing in the Corinthian Ballroom with a brilliant DJ and spot prizes for the best fancy dress costumes.
For a night out with a difference, why not try musical bingo? These evenings promise to be a monster of a party! Musical bingo is just like regular bingo, but with songs instead of numbers. Halloween shows are an absolute must for any dress up enthusiast, with prizes for costumes in the categories Most Innovative, Most Outrageous, Scariest, Best Make Up and Best Team Effort. Tickets from £10.
We hope you have a wonderful Halloween whatever you decide to do! If you would love to go to one of the above events but need a bit of extra cash to see you through then Loans 2 Go may well be able to help. We offer online loans or you can call us on 0330 400 0403.