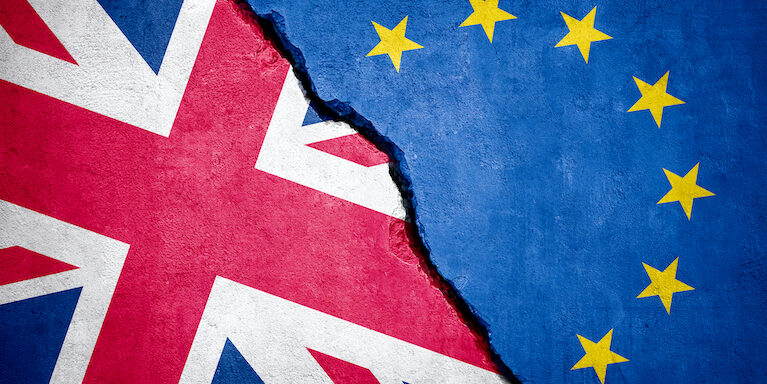 Published February 12, 2021
How does Brexit affect you? Ten ways…
Ease the impact of Brexit with unsecured personal loans from Loans 2 Go
So Brexit has finally happened. This means that some things have inevitably changed. 
We will gradually understand more about what has changed due to Brexit as time goes on. In particular, it can be difficult to identify some of the changes Brexit is causing because we are also in the midst of the Covid-19 pandemic.
So in this article we will look briefly at ten ways Brexit will affect you, either now or in the months to come.
1. Remaining in the UK
If you are an EU citizen living in the UK and do not already have indefinite leave to remain then you need to register with the EU Settlement Scheme to continue living in the UK after 30th June 2021. If you have lived in the UK for at least five years, you will be able to apply for settled status. Otherwise you will be able to apply for pre-settled status.
The deadline for applying is 30th June 2021. You can read more details on the Gov UK website. 
2. Buying goods from the EU
Your rights
Whilst you still have UK consumer rights which provide protection when you buy goods online, be aware that when you buy from a trader based in the EU, you won't now be protected in the same way as if you bought from a UK retailer. If you have any problems when buying for an EU country, there is help available from the UK European Consumer Centre.
Additional costs
One of the major changes that has already affected many UK customers is that when buying from EU retailers you may have to pay additional costs for the item to be delivered to the UK.
VAT
Post-Brexit, UK VAT of 20% now applies to all purchases from the EU. 
If your purchase is over £135 you will have to pay the VAT when your item reaches you.
If your purchase is under £135 larger retailers will include VAT in the purchase price. But smaller sellers – who would not normally pay VAT – are now being charged UK VAT automatically by the online marketplaces they use. This can result in a 20% price increase to you, payable either at the point of purchase or delivery.
Customs
EU retailers sending goods to the UK now need to fill out customs declaration forms. For goods costing more than £135, customs (import) duties may apply, which can range from 0% to 25% of the price of the product you're buying. You may be asked to pay this either to the courier firm or when collecting an item from the post office.
3. Receiving gifts from the EU
The above rules about VAT and customs duties also apply to gifts.
Any gift being sent from the EU with a value higher than £39. may now be subject to VAT.
And for gifts costing more than £135, customs duties may also apply if they have not already been paid by the sender.
These extra charges will usually need to be paid to the courier before you can receive your package.
4. Sending goods to the EU
If you are now sending goods to the UK, whether selling them, returning them, or as a gift, you need to complete a customs declaration form (available from the Post Office or Royal Mail Click and Drop). The recipient may then have to pay customs or handling charges in their country – depending on the country and the value of the goods – before they can claim the parcel. 
5. Banking
If you live in the UK and your bank has a parent company in the EU – for example Santander or RCI – you can continue to bank with them. Many EU-regulated banks have applied for UK licences, which means that your money is protected by the Financial Services Compensation Scheme (FSCS), just the same as a UK-based bank. 
However, many British citizens living in the EU have had their UK bank accounts or credit cards closed as a result of Brexit. It does depend on the bank and the regulations of the country you live in, and banks that have not yet closed accounts are currently monitoring the situation to see how it develops.
6. Using your bank cards in the EU
You can still use UK credit and debit cards to buy goods and services from EU-based retailers, but the charges for this will increase from October 2021: from 0.3% to 1.5% for credit cards and 0.2% to 1.15% for debit cards.
If you are in the EU you can still make cash withdrawals using your UK bank card, but this is also likely to become more expensive in the future. 
7. Studying in the EU
Up to the end of 2020, UK students were eligible to apply to study at European institutions for a year during their degree under the Erasmus scheme, and would receive a grant from the European Commission. Students currently participating in the scheme will be allowed to continue to the end of their year.
From 2021, the Erasmus scheme is being replaced by the UK Turing scheme, which will provide funding for students to go on study placements around the world from September 2021.
8. Travelling to the EU
Under Covid-19 restrictions, UK citizens – like any other non-EU residents – are barred from travelling to EU countries. This complements the current UK guidance to stay at home and not travel unless you have a legally permitted reason to do so. 
Once Covid restrictions are lifted, you will be able to travel as a tourist to most EU and EFTA (Switzerland, Norway, Iceland and Liechtenstein) countries. You will not need a visa, and can stay for up to 90 days within any rolling 180-day period. Bulgaria, Croatia, Cyprus and Romania each have their own separate 90-day limits, which means that time you spend in other EU countries does not reduce how long you can spend in each of these countries without a visa. 
In 2022, it is expected that a visa waiver system will be introduced for UK nationals travelling to the EU. You will need to purchase an electronic pass for around 7 Euros, which will cover you for short trips to the EU over a period of 3 years; similar to the ESTA currently required to visit the USA.
When travelling to EU countries you may be subject to border checks such as being able to show a return or onward ticket on arrival, and evidence that you have enough money to stay. You will also need to use separate border check lanes from EU citizens.
9. Travel documentation
When Covid restrictions are lifted and EU travel is permitted again, there will be certain travel documentation required that you need to be aware of:
Passports
Your UK passport must be less than 10 years old and will also need to have at least 6 months validity on it. This applies to both adult and child passports. 
EHICs / GHICs
Current EHICs (European Health Insurance Cards) are valid for British citizens as long as they are in date, and can continue to be used when travelling to the EU, for holiday, study or business. When your EHIC expires, you will need to replace it with a GHIC (Global Health Insurance Card) . Both cards give you the right to emergency and medical healthcare when travelling in the EU. This includes treatment for a pre-existing or chronic condition.
It is also important to ensure that you have appropriate travel insurance for the countries you plan to visit, to cover you for other eventualities such as private medical healthcare, costs of being flown back to the UK, travel disruption costs, lost or stolen property.
Driving
Your UK drivers licence will normally be enough to enable you to drive in the EU. However, if you only have a paper licence or your licence was issued in Gibraltar, Guernsey, Jersey or the Isle of Man you will need to apply for an international driving permit (IDP). For more details check the Gov UK website.
If you're taking your own car to the EU, you'll need a GB car sticker and also a green card. This is an international certificate of insurance issued by your UK insurer, to confirm that you have the necessary minimum level of third-party insurance. 
Animal Health Certificate
If you want to take your dog, cat or ferret with you when travelling to the EU you will need an Animal Health Certificate (AHC), which replaces the previous Pet Passport. You must get an AHC from your vet no more than 10 days before travel.
Your pet will need to be microchipped and vaccinated against rabies. Additionally, if you are taking a dog to Northern Ireland or the Republic of Ireland, Finland, Malta or Norway, you need to provide evidence of tapeworm treatment one to five days before travel. 
10. Mobile phones
Since 2017, the EU "Roam Like At Home" rules enabled you to make calls and send texts to anywhere else in the EU, or use data, and it would be charged as if you were using your phone in the UK. 
However, post-Brexit there is no guarantee of this continuing. The major mobile providers are not currently planning to end these arrangements, but it is worth you checking with your provider nearer your time of travel to confirm the latest situation.
We are very much in the early days of Brexit, and much is still changing, particularly with the pandemic as well. But we hope that the above information will help you to understand some of the main impact on you as we currently understand it.
Check back here soon for more lifestyle and financial tips from Loans 2 Go.