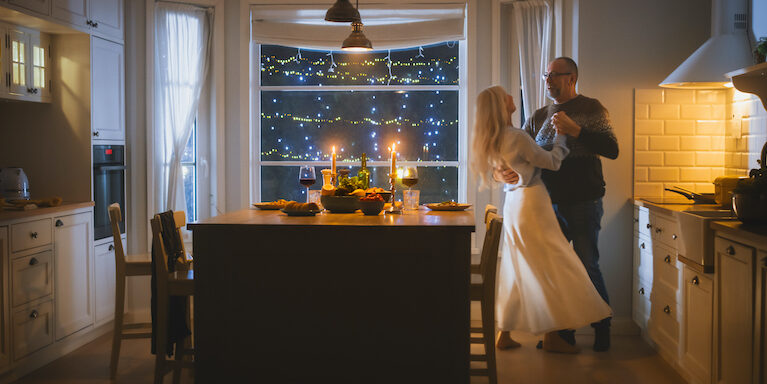 Published February 5, 2021
How to celebrate at home during lockdown!
Celebrate and save money with help from Loans 2 Go
At the time of writing, most of the UK is still in lockdown. And when we reach the end of March, it will have been a year since we experienced the very first Covid-19 lockdown. So much has changed since then, and Covid-19 has impacted on our lives in many different ways.
However, in these difficult times, it is more important than ever to make sure that we celebrate different occasions in the best way we can. This February has been a Valentine's Day like no other, Easter is not too far away, and many of us are facing our second birthday or anniversary in some kind of lockdown or other social distancing measures.
So how can we celebrate these special moments during these strange times? 
Here are six ideas that may help you to find some small moments of joy to mark the occasion, and also save money in the process:
Dress for the occasion
It can be very tempting not to go to any real effort if you are celebrating at home. But it's time to change that way of thinking! Many of us really miss getting dressed up to go out, and given that staying in is the new going out, then why not dress up at home instead? The very act of putting on your gladrags can also be very cheering.
Also don't forget to dress up your home a bit too! Whatever kind of celebration you are planning, you can add to the atmosphere with a few candles, fairy lights, banners or balloons just to make it feel that little bit more special.
Even if you are completely on your own, make an occasion of it, just for you.
Have food delivered
On your special day you deserve to be pampered, which means no cooking! So why not order a takeaway? But don't necessarily use the same one that you always do. Take your time to either find somewhere different. You may well find that during lockdown some local pubs and restaurants are offering either a delivery or click and collect service. Buying from them would not only be a lovely treat for you, but would also help to support their business.
It is also worth looking further afield. Many gourmet restaurants are offering a complete meal package – food and drink – that they will deliver to your door, usually nationwide. Most of the food is pre-prepared so that you just need to heat it up. 
Home made cocktails
The series of lockdowns has seen a growing trend for people to create their own bar areas at home, either inside or in a garden outbuilding. But even if you are just sorting drinks out in the kitchen then why not make something special? 
Either look up some recipes online or order a cocktail-making book to plan your cocktails. Then all you need to do is make sure you have all the ingredients you need, and get shaking!
Online gatherings
Whilst we can't gather together in person, most of us are able to do so online. But get creative about this. It doesn't have to be just an online chat, you can include an activity as well if you want to. Whether this is a quiz, games evening, a singalong, fancy dress theme or perhaps making your cocktails together is up to you. You could even have a virtual dinner party.
Some groups have taken this idea a bit further and you can find a wide range of activities available for groups of people to do together online. Examples include:
Wine tasting

Murder Mystery Party

Escape Room

Team games

Painting class
Enjoy a show
If you like to see a show then treat yourself to something fun online to make your occasion special. Whether you want to see a West End show, live music or comedy there are many options to choose from, most of which are free. 
For starters, check out some of the following:
Also make sure you check out what is happening in your area. A quick search of local social media sites is likely to reveal a wealth of local talent – for example music, comedy, drama – many of whom may well be putting on virtual events and would love your support.
Another option is to treat yourself to a night in at the cinema by choosing a premium rental movie. Many new films are now going straight to streaming services such as Netflix. Even though this may cost you (typically in the region of £9.00-15.00), it is still cheaper than going to the cinema, and of course you have your choice of refreshments to hand.
The great outdoors
Another alternative to consider is some kind of outdoor celebration. There are various options that could be really good fun. 
Exactly what you can do will depend on various factors. An obvious one is the weather, but you also need to take into account the social distancing measures currently in place, which may mean your celebration is limited just to your household or bubble and that you need to keep it local.
But some possibilities that could fit in with this are:
A long country walk, with drinks or picnic if allowed

A BBQ or picnic in your garden

A walk round your local town or city, perhaps with a quiz built in

Outdoor games or treasure hunt

Visiting a local historic site, such as

The National Trust

.
So rather than feeling cooped up inside, why not get out in the fresh air for a carefully planned outdoor celebration? 
We hope that the above ideas help you to find ways to celebrate the special times in your life, even if you are still in lockdown when they happen. Looking on the bright side, celebrating virtually will usually help you to save money compared with what you would normally spend, but still have fun in the process.
Win win!
Check back here soon for more lifestyle and financial tips from Loans 2 Go.