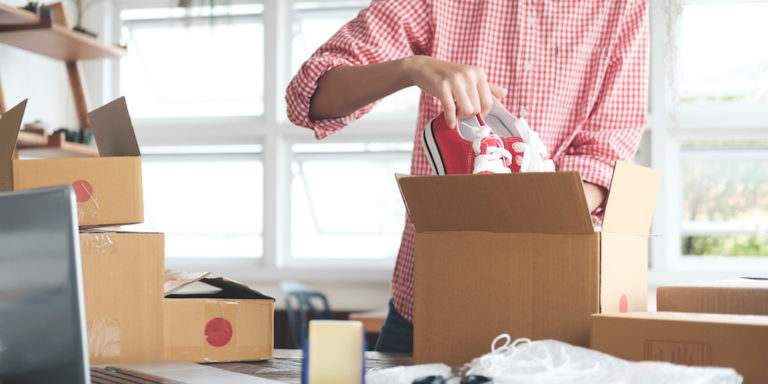 Published January 30, 2018
Could eBay transform your financial future?
In our recent article about how to get on top of your finances in 2018 we looked at various ways to increase your income. One of these is to sell goods on eBay. Many of us have a wide variety of unwanted items in our homes, many of which we could sell for much-needed cash.
The eBay site itself quotes research from TNS that the average home contains around £4,000 worth of unused items! So why not declutter your home and boost your income at the same time by selling some of this on eBay?
The problem is that many of us are unsure either how to get started selling on eBay, or how to do it well. So to help you make a success of your eBay selling here are our top Ten Tips:
1 – Make your listings easy to find 
When preparing a listing first make sure that you are listing your item in the most suitable category. eBay will suggest this for you. But there are also other things that you can do to make sure that your listing stands the best chance of being picked up by eBay when a potential buyer searches for an item like yours.
When someone does type in a search query, eBay will return a list of items for sale based on the "best match" that it can make between what the searcher has typed in and all the related items for sale. To get the best chance of your item being included in the best match search results, make sure you do the following:
Include key information in your listing title
Prepare a good product description
Be as specific and detailed about the item as you can, especially its condition
Use several high quality photos
You can also use eBay's Listings Analytics Tool to get a better understanding of how well your listings are performing on the site and help you to improve your titles and product descriptions to attract interest.
2 – It's all about the title!
We've already seen that the title is important so pack as much punch into those 80 characters as you can! The eBay Listings Analytics Tool SEO option can guide you as to what keywords people tend to use when searching for an item like yours. Make sure that you include these in the title so that your listing will appear higher in search results. The SEO tool will also show you a example listings to give you ideas for good titles.
3 – Describe it well
If you are new to eBay it is worth spending time creating a few product example descriptions that read really well. Save these carefully so that you can use them again and again as the basis for future listings. eBay have produced a video to help you create excellent titles and descriptions: this can be viewed here.
Once you have a few good product descriptions under your belt, listing items will become much less time-consuming: all you need to do is copy your example description and tweak it to fit the specific item you want to sell. You may also want to develop your own design style for your listings – for example font styles, colours and sizes, and backgrounds – that reflect something about you as a seller.
4 – "These photos don't do it justice …"
If you use eBay to buy things, how often have you read that phrase?! The problem is that poor photos can really hinder your sales. People will not buy things if they don't have a clear idea of what it is they will receive. So take time and effort to get good photos and to display them as part of your listing. Take a series of photos of the item from different angles, ensuring it can be clearly seen. A plain background is best so that its does not detract from the item. Also make sure you highlight anything of particular importance – whether it is a special feature of the item or a defect with it.
Photos can make the difference between selling and not selling your item, so do it well If you need further help and guidance, eBay have produced a training video here.
5 – Ensure the price is right
This is always a dilemma. If you set too high a starting price, your item may not attract much interest. But if you set the price too low, your item could end up going for a song. For popular items, eBay will suggest a typical starting price: it is up to you whether or not you decide to accept this. But for less common items, it can be more difficult.
If you are new to eBay the best thing to do is research other listings for items like yours to see what kind of starting price they are listed for – and how much they eventually sell for. This will help you to manage your expectations as to how much an item is likely to sell for, rather than expecting a much higher sale prince then being disappointed.
6 – What about postage?
When selling items on eBay you need to decide whether you will post them or want them to be collected by the buyer. If you are posting them you then need to decide what service to use and how much to charge. eBay will suggest a postage cost for an item you are selling based on the cost of posting similar items. This cost is usually based on Royal Mail 2nd class, but you may prefer to consider other options offered either by the Post Office, or parcel delivery companies. Depending on the item you may want to select a more secure form of delivery; or sometimes the buyer will request this and be willing to pay extra.
You also need to decide whether you are willing to post an item abroad. eBay has its own Global Shipping Programme which provides a shipping centre in the UK to which you an send the item for sale, and it is then forwarded to the buyer in their home country.
If you charge too much for delivery on eBay, this will put buyers off. However, if you charge too little you may end up out of pocket (and remember that you will also be spending some of your own money on wrapping materials). Some sellers decide to offer free delivery to entice buyers, but then you may need to set your starting price a little higher to cover your costs. It is also a good idea to offer to combine postage costs if a buyer buys more than one item from you. For example, if you charge £2 postage per small item, and it actually costs you £1.50 to post an item, you could offer to send two items for £3. Your actual postage costs are still unlikely to be much more than £1.50 so you will still make a profit. Your buyer will save £1 and be happy with you as a seller, so is likely to leave good feedback and perhaps also buy from you again.
Some careful thought therefore needs to be given to the whole subject of postage costs. Whatever you decide, make sure that you only post items out once payment is received and cleared so that you don't lose everything.
7 – Let Paypal take the hassle out of payments!
eBay gives sellers a variety of options to accepting payment. By far the easiest is PayPal: a third party online payment service that you can sign up to for free. Paypal has many advantages, including the ability to add bank accounts and debit/credit cards to your PayPal account, meaning that you won't need to share these financial details with either eBay or any other online organisations.
Once you are registered, you can connect your PayPal account to your eBay account, enabling you to move money between the two – and then in/out of your chosen bank account or card.
8 – User Experience!
We live in a world full of opportunities for feedback and eBay is no exception! As an eBay seller you need to give your buyers an excellent User Experience as this will work in your favour. Every time you have a transaction on eBay both the buyer and seller can leave feedback for each other. This can be Positive or Neutral or Negative, and the percentage of Positive ratings is displayed in brackets next to the seller's name on all their eBay listings.
So as in any other customer-facing sector, User Experience is really important. Treating buyers and potential buyers well, and keeping them happy at every stage of the process is essential to get the good ratings that you need to succeed. You can also use eBay's Seller Dashboard which will give you an overview of how well your current selling is going and how eBay rates you as a seller.
It is also important to deal effectively with any problems or complaints. Do your very best to sort these out direct with the buyer: if need be you may need to consider a refund or to let them return the goods to you if there is a problem. But help is at hand if there is something you can't sort out: eBay has a Resolution Centre which enables one of the parties to escalate the issue, and provides a platform to resolve a dispute.
9 – Costs of selling
If you are new to eBay you may not be aware that there are some costs involved in the process. These are paid to eBay on a monthly basis so take into account these costs when listing items for sale on eBay.
The most common eBay costs are:
Listing/insertion fee
Final value fee
Paypal fee
Listing upgrade options eg Buy It Now, Reserve price
More details about eBay costs appear here, and there is a fee calculator here that is a useful guide to the costs you are likely to incur when selling an item.
10 – Fraud
Last but by no means least, be on your guard against fraud when selling on eBay. Guard your eBay and Paypal passwords carefully and never respond to emails purporting to be from either organisation that ask you for your personal details or invite you to click on a link in the email to login to your account. There are many "phishing" emails around that will direct you to a fake website in order to steal your login details and hack your account. So be careful.
Similarly be cautious of someone messages you about an item for sale, asking you to complete the transaction outside eBay. This can be tempting as you avoid eBay fees but – as well as it being bad practice to close an auction early if there are other bids on it – you will not be protected by eBay's seller protection policies.
We hope that the above tips will help you make the best of your eBay experience and that selling on eBay can make a successful contribution to turning your finances around in 2018. If you need additional help with your finances – such as a personal loan – then do get in touch with us online or by calling 0330 400 0403.