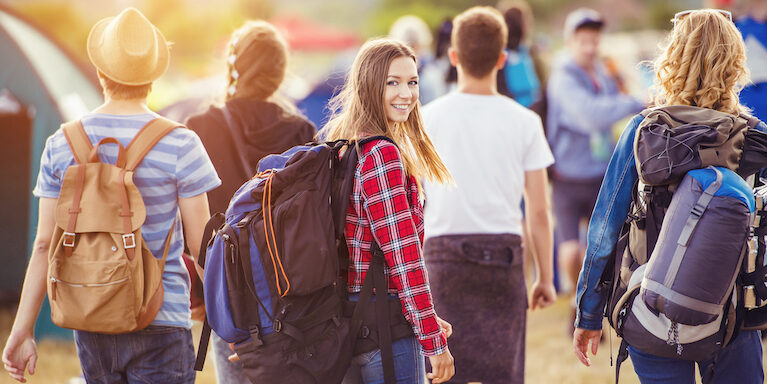 Published March 6, 2021
Get ready for the 2021 festival season!
…Enjoy summer with an online personal loan from Loans 2 Go
Good news for music lovers. Festivals are ON!
As we continue to navigate the roadmap out of lockdown, several festivals are planning to run this summer. They include The Isle of Wight Festival, Reading and Leeds, Latitude, and Camp Bestival – to name but a few.
There are also many major outdoor gigs running during the summer, including BST Hyde Park, Hampton Court Palace Festival and Kew the Music. 
It is hoped that all Covid restrictions will be lifted by June 21st, but festival organisers are working hard to ensure that they comply with any Covid regulations that may still be required at the time of running. 
You are able to buy tickets for these festivals now, and in fact some events are already selling out. So if you want to go to any of the larger festivals, you need to act fast. Make sure that you buy from an official retailer, as you will then be entitled to a refund if the event has to be postponed or cancelled.
But before you go rushing ahead, it is worth thinking through the other costs involved in going to a festival. If you are aware of these, and can prepare in advance, it will make the whole experience a much more enjoyable one for you.
So let's take a quick look at:
How much it costs to go to a festival.

What you need to take with you to a festival.

How you can save money on going to a festival.
How much does it cost to go to a festival?
Festival ticket prices vary, but are usually in the region of £200 for the full event. But that is only the beginning. You also need to add onto the ticket cost:
This can be a significant cost, depending on where the festival is and how you are travelling. For example, the Isle of Wight will involve you getting to one of four ports then taking a ferry or hovercraft, all of which costs money. But whichever festival you go to, you will need to factor in either petrol costs, or bus or train fares.
If you plan to buy all your food and drink at the festival this is going to add up very quickly. If you have a light lunch, hot evening meal, snacks and drinks throughout the day, you could easily spend upwards of around £40 per day.
Of course you don't have to buy anything – but you will want to! Whether it's a festival T-shirt, hat, wrist band, badge, glow sticks or all the other weird and wonderful things you can buy, you will almost certainly not come away empty handed.
Many festivals have additional experiences and services on offer that you may want to use. For example fairground rides, massages, henna tattoos, hair braiding etc. If you want to enjoy some of these you will need extra money for them.
You will also need to take various things with you to the festival. If you have not been to one before, you may need to spend a bit of money getting these together. So let's take a look at what kind of things you need to take with you.
What do I need to take with me to a festival?
The more organised you can be before you get to the festival the better. If there are things that you forget to take, you will either need to manage without or will have to spend money buying them there. Here is our quick checklist:
Ten Essential Festival Items:
1. A tent
This is the most obvious thing and probably your biggest expense. It is worth getting a tent that is bigger than you actually need so that you will have room to be comfortable and fit in all your stuff.
2. Good quality sleeping bag
You will really appreciate a good quality sleeping bag, so don't scrimp on this. Make sure it is going to be warm enough for the chilly nights that we can have even in summer. But you don't need to take a pillow: a pillowcase stuffed with soft clothes will work equally well.
3. A mallet and gaffer tape
A simple mallet – you can buy rubber or plastic ones – will save you time and frustration when getting your tent pegs into the ground. And you will find that gaffer tape has multiple uses, including fixing any rips or tears in your tent.
4. A torch
A torch is essential for finding things in the dark and also those night time loo trips. Either take spare batteries or look for a wind up torch that doesn't need them.
5. Basic phone and phone charger
Rather than taking an expensive smartphone to a festival, it can be a good idea to get a very basic pay as you go phone that doesn't really matter if it gets lost or stolen. It's also worth investing in a portable battery charger. 
6. Dry clothes
If anyone in your party is bringing a car, it's a great idea to leave a bag of dry clothes in there. If everything else gets wet, it's wonderful to have some clean dry clothes to get changed into. Definitely worth the trek back to the car park!
7. Minimalist set of toiletries
Bathroom facilities are likely to be very limited so take only what you need to survive for a few days. Mini versions of essential toiletries, plus festival staples such as dry shampoo and baby wipes. It's also a good idea to pack a few basic first aid essentials.
8. Camping chair
This may seem unnecessary, but after a day or two you will really appreciate it if you have somewhere comfortable to sit. A blanket is a good idea too. Some smaller festivals allow you to take your chair into the stage area. But even if it's just for a relaxing chill by the campfire at night, it is worth the extra baggage.
9. Cooking stove and provisions
It is a great idea to have the facilities to make yourself a hot drink or simple food. First thing in the morning you may not feel like queuing for breakfast, but a coffee and cereal bar in the tent might fit the bill. So take a small cooking stove and some basic provisions, and you will never be stuck for refreshment.
10. Crockery and cutlery
If you are preparing your own food and drinks, a decent mug, plate and cutlery is a really nice touch. It brings a touch of home to the festival experience, and your food and drink will taste much better than from disposable cups or takeaway cartons.
How can you save money on going to a festival?
If you really want to go to a festival but your budget is not going to stretch to covering all the costs we have looked at, there are a few things that you could try.
Volunteer to work with a charity
Many charities offer volunteering opportunities at major festivals. You would need to work an agreed number of hours for them but would also have plenty of free time to enjoy the festival.
Borrow the equipment you need
If you plan carefully in advance, you may be able to borrow equipment such as tents, sleeping bags, camping stoves and chairs from family and friends. This could save a lot of money.
You may be able to save on travel costs by travelling with others. Whether it's a car share, or group train or bus tickets, it is definitely worth exploring.
Bring all your own food and drink
This is one way to save a lot of money, though it needs careful organisation. We've already seen how the cost of buying all your food at a festival can mount up very quickly. So the more you bring, the more you save. If you are part of a group, you can share the cost by deciding who brings what in advance.
You could save money on admission, accommodation and food by just getting a day ticket for your chosen festival. You could still get to see the bands you really want to, but would only have to pay for a day ticket and your travel costs.
Another option – particularly if you are a first time festival goer – is to look for smaller festivals that will be cheaper to go to. This would give you the flavour of festival-going so that you know whether it's worth saving for a bigger and more expensive festival next time.
We hope that you enjoy festival season 2021, whichever one you manage to go to. If we can help at Loans 2 Go – for example with an online personal loan then do get in touch.
Check back here soon for more lifestyle and financial tips from Loans 2 Go.