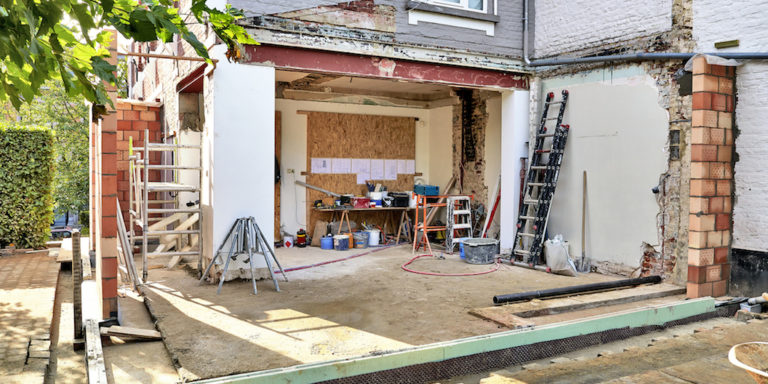 5 Factors to consider when extending your home
As spring gradually approaches, many of us feel the urge to make changes in our lives. The old tradition of spring cleaning is part of this: with the changing of the season comes the desire to get everything sorted and make a fresh start.
That is one of the reasons that many people start thinking about moving at this time of year. It would be wonderful to have a larger home with more living space and more room to put everything and everyone. So we start looking at property listings and imagine ourselves and our families in a different setting. The only thing spoiling that picture is the issue of money.
It is really expensive to move these days! Aside from the cost of the new property itself you will have to pay estate agents' fees, solicitors fees, and stamp duty on some properties. Then there are the costs of moving itself, plus any extra furniture or other items you need to buy for your new home. The list is endless.
No wonder that many people give up on the idea of moving. But one alternative is to extend the home that you have. Making changes such as adding a conservatory or additional downstairs room, or perhaps a loft extension to provide another bedroom, will give you additional space and may increase the value of your home.
When thinking of extending your home, there are  five key factors to consider:
Whilst it will be much cheaper than moving, having any kind of home extension does cost money. So the first thing to do is to get some quotes from different companies about overall costs then you can plan how to raise the money. One option to consider is an unsecured personal loan from Loans2Go.
It's also a good idea to build in a bit of contingency money to cover any unforeseen expenses or complications that may arise during the building work: aim for an additional 10% ‐ 15% on top of the overall cost "just in case".
Are you allowed to do it?
Some home extensions will need planning permission. This will depend on how big the extension is going to be, and where it will be situated. You can find out about whether your extension is likely to need planning permission by using the interactive planning portal here. You will then need to liaise with your local authority if planning is needed.
It is also essential that your extension has building regulation approval. This will be up to your builder to ensure that the local authority checks the work as it progresses. The purpose of building regulations is to confirm that the work conforms to minimum safety and quality standards. Not only are they a legal requirement, but you will need to provide evidence of building regulation approval if you decide to sell your home sometime in the future.
Don't forget the neighbours!
When planning to extend your home, even if you do not need planning permission, it's important to consider your neighbours and the impact that the new room(s) would have on them. Also make sure that you let your neighbours know when the work is going to start so that they are aware that there is going to be  noise and disruption. You may also need their cooperation about things like access and parking, so make sure you keep things sweet.
Be very careful who you choose to do the work. Word of mouth is usually the best way to find someone reliable. Also check sites such as Checkatrade and TrustPilot to read reviews and other's experiences. Make sure you get the quote and anticipated timescale in writing before the work starts, and arrange to pay the money in instalments as sections of work get completed: never pay everything up front.
Last but not least, do keep your insurance company informed of what you are doing. During the building process itself there are increased risk, for example with floors and walls being removed and scaffolding erected. There will also be more people with access to your home during this time, which could affect the security of your home.
Once the work is finished, it may also affect your insurance premiums as your home will now be larger. So make sure you keep your insurer up to date with your plans, to keep your policy current and valid.
Good luck with extending your home and we hope it brings you years of happiness. If you need help with the financing of it then do get in touch with us to discuss a personal unsecured loan. You can contact us online or by calling 0330 400 0403.