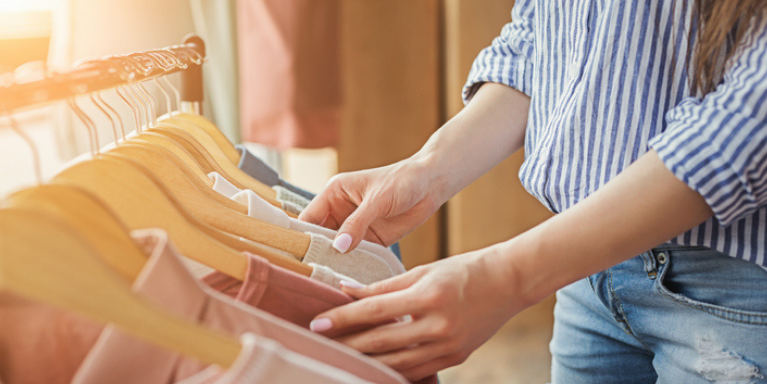 Published February 5, 2022
How to reinvent your style without breaking the bank
How does it always seem to be that you can have a wardrobe full of clothes but still can't find anything to wear!/! Anything you're happy with, at least.
It seems particularly to be the case at this time of year. We're hoping that winter will soon be behind us, and spring will be on the way. But what on earth are you going to wear when it's time to discard the winter woollies?
Perhaps it's time for a complete overhaul? Many of us often dream of totally reinventing our style. Having an exciting fashion makeover. But then we think of the cost involved and give up all hope of anything ever changing.
If that's how you're feeling, read on! Just before Christmas we looked at how to shine through the Christmas party season without spending a fortune. And we reckon it's also possible to transform your everyday wardrobe and still save money. 
Here are ten ways to reinvent your style without breaking the bank:
1. Tailor your wardrobe for how life is now
One of the reasons we can have so many clothes but feel like we've nothing to wear is that we accumulate clothes over a period of time, and our lives go through several changes within that time. Over the last 15-20 years perhaps you have evolved from student to gym bunny to employee to parent to self-employed – and everything in between. Which means there are likely to be many things in your wardrobe that don't fit either your body or lifestyle any more.
So if you've decided to reinvent your style, you need to plan carefully what kind of clothes you do and don't need. Spend time looking through websites and magazines to get an idea of the kind of styles you like and that would fit with your everyday life. Why clutter your wardrobe with things that "might come in useful" when, realistically, you are unlikely ever to wear them again.
Make a plan of the kind of clothes you want and need, and use this to help you tailor your wardrobe to fit your new style.
2. Use what you've got
We also referred to this in our recent article How to get your finances sussed in 2022. Most of us have so much stuff that we lose track. And this applies to clothes just as much as anything else, if not more so.
So the next thing to do is work out what you already have. Set aside time to go through all your clothes and try things on to see what does and does not fit. Also play around with different combinations of clothing to see if there are items of clothing and accessories that may unexpectedly work together to create a new look. 
Also see if anything you have and don't wear could be adapted into something that you would like better. For example changing the length by either shortening a hem or adding a trim, removing sleeves, adding press studs or a belt for a closer fit could all make a big difference.
You can then redistribute anything that you don't want. You may be able to sell some items on online sites such as eBay, Depop, Vinted or Facebook Marketplace, and use the proceeds to save money towards new clothes.
3. Store clothes carefully
Having a major declutter should also give you more space to store the clothes that you want to keep, plus any new additions over the next few weeks. Also try to organise things in a way that makes sense to you, for example either by style or colour. And make sure the most frequently used items are easy to access to avoid having to rummage round every time you want them.
You can help to extend the life of the clothes you already have by taking really good care of them. Storing them carefully is part of this. It's a good idea to invest in padded hangers for dresses, tops and sweaters, as this helps to keep the shoulders in shape. When putting away items in drawers, fold or roll them neatly to help preserve the shape. 
When cleaning your clothes, follow washing instructions to keep them in good condition. Some "dry clean only" items may be able to be washed at low temperatures, but if not, you will have ongoing dry cleaning costs to pay. If this is not going to be practical for you, be careful to check the washing instructions when buying items of clothing.
4. Mend anything that's broken
It can be really frustrating to pull out something to wear only to find a missing button, tear in the fabric or a hanging hem. And that always seems to happen when you're in a hurry to start with! So as part of your big sort out, take time to carry out any minor repairs to the clothes you want to keep. This can give them a new lease of life and bring them back into circulation again.
Even if you need professional repairs, such as an expensive dress altering, or new soles or heels for shoes or boots, you may save money by doing that rather than trying to get a similar item new.
5. Look for clothing on online auction sites 
When you do want to add to your clothing collection, resist the temptation always to buy new. There are many online auction sites selling clothes; we mentioned some of them earlier. You may well be able to find what you are looking for at a fraction of the cost.
If you like a particular brand of clothing it can help to set up and save searches on online sites for that specific brand and you will then be notified when items become available.
6. Support your local charity shops
Another really great source of good quality second hand clothes are charity shops. It is worth visiting them regularly as you never know what will or will not be there. But also, as you get more familiar with them, you will get to know when they tend to display new stock. You may also be able to ask staff to let you know if particular items come into stock.
And of course as well as grabbing a great bargain, you are also helping to support a really good cause.
7. Sign up for mailing lists
If there are brands you particularly like, either because of the sizing, the quality, or the styles, it can be worth either signing up for their mailing list or downloading their app. This way you are likely to hear of sales and special offers, and there may also be some kind of loyalty scheme. 
If there is a specific item you want, it's also a good idea to check Google Shopping to see if it is on offer anywhere else.
So in the instances where you are going to buy new, make sure you get the best price and deal that you can.
8. Buy out of season
Another really good tip to save money on reinventing your style is to buy out of season. So for example if you like a particular brand and would really love one of their winter coats, you may be able to pick up a real bargain on one in a couple of months or so. That means you wouldn't have the benefit of it this winter, but it will be ready and waiting for you later this year.
The same with summer clothes. You can usually get tremendous bargains on these from around September onwards. 
Interestingly, buying out of season can help you not to be overly influenced by fashion trends, which are often very fleeting anyway. Look for stylish and classic items that you are likely to wear for years to come, rather than something that is supposed to be on-trend now but everyone will have forgotten about by next season.
9. Never use credit cards
So far we have looked at ways you can save money when buying clothes either new or second hand. But another important thing is never to use credit cards for buying clothes. Only spend what you can afford. If you see a bargain, it can be really tempting to get out the credit card. But unless you are able to pay off the balance in full next month, you will be chalking up interest, which soon makes your initial bargain way more expensive than you expected.
So make it a golden rule that unless you have the money, you don't buy the item.
10. Organise clothes swaps with friends
Another great way to boost your wardrobe is to swap clothes with friends. At this time of year, you'll probably find that lots of your friends and family are also trying to sort out their wardrobes. So why not arrange a get together for each of you to offer a few items that you no longer want or need. They may be just what someone else is looking for.
A variation on this theme is to operate a lending system. Many of us have one or two lovely items that we bought for a special occasion and have just worn once. If you have a friend that you trust , you could agree to lend each other something for the next special occasion to save money. As long as you both take care with the items and return them in good condition, this could open up a new world of wardrobe possibilities.
We hope that this article inspires you to reinvent your style without breaking the bank.
For more tips on how to save money in 2022, check back here with us soon at Loans 2 Go.