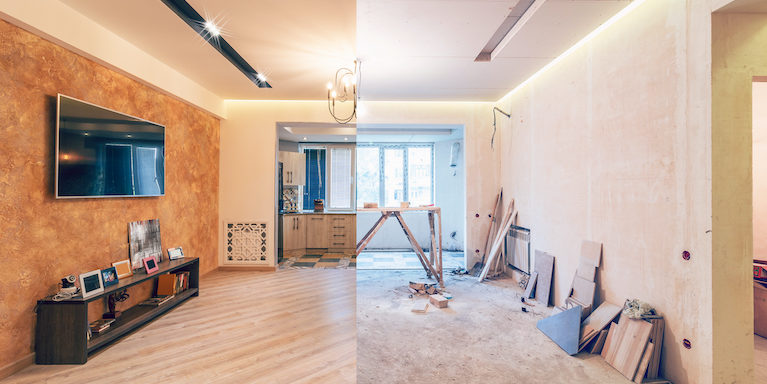 Published June 24, 2020
Is now the time to improve your home?
Create your dream home with an unsecured loan from Loans 2 Go…
With lockdown restrictions gradually easing, there is no longer an excuse to put off doing some of the home improvement jobs that you might have had on your list for 2020. Whether it's catching up with lots of small jobs, or doing something more major towards creating your dream home, Loans 2 Go can help.
First of all let's look at some of the best home improvements to do right now. We are all still living in a period of uncertainty, so what are the key things that you can do to improve your home that will also be a good investment over the next few months.
Home improvements worth doing now
There are many improvements you could consider doing that would add value to your home as well as giving you better living conditions. Having most probably spent more time in your home recently, you will already be well aware of the areas where there is – literally – room for improvement. 
So whether it's creating more space, or getting existing aspects of your home into better shape, these are the top five home improvements that you may want to consider. Some are much more major than others, but any one of them would bring you benefits in terms of both comfort and investment.
1. Add more living space
There are many different ways you can do this, depending on the configuration of your home. But if you have any scope to do any of the following it could now only give you some much-needed additional living space but also make your home more attractive to buyers in the future. Some possibilities to consider are:
Convert your loft into a new bedroom or studio.

Convert your garage into additional living space.

Convert an outbuilding to a home office.

Add a conservatory.

Extend the kitchen out to the side or back.
2. Make the downstairs of your home open plan 
By removing one or more inner walls, you can create more living space and also a much more contemporary look for the downstairs of your home. Open plan living is increasingly popular for families and can also make your home appear much larger. 
But if you are doing this yourself, do make sure you take professional advice about which walls are safe to remove, to avoid any structural issues with your home.
3. Upgrade your bathroom
A sparkling brand new bathroom is such a joy and can make a real difference to the feel of your home. Surprisingly it can be quite economical to redo your bathroom if you stick to a similar layout as the existing one. This enables you to replace the bathroom furniture and decor without having to reconfigure the piping and drainage systems.
4. Improve the garden 
Even just taking a weekend for some simple measures such as a major cut back, clearout and clean up can make a huge difference to your garden. With the easing of lockdown restrictions it is also now much easier to get rid of garden waste.
But any additional investment over and above this – such as new fencing, decking, patio or outbuildings – may be well worth it, and will also enable you to enjoy a summer staycation even more.
5. Kerb appeal
Are you proud of the first impression your home gives, or does your heart sink? You can remedy the situation quite easily. Fresh paintwork on exterior doors and windows, clean and polished brassware, a tidy front garden or yard, and pretty hanging baskets can make a huge difference.
By investing just a little time and money in sprucing up the outside of your home, you will lift your spirits and also ensure that your home makes a positive impression on all those who visit.
Money for home improvements
So far so good. But what if you don't currently have enough money to pay for the home improvements that you need to do? This is where Loans 2 Go may be able to help. 
Many lenders offer specific home improvement loans that allow you to borrow money in order to fund home improvement projects. The thing to be careful of is that some of these are secured loans. A secured loan is tied to your home, which means that if for any reason you were unable to make the loan repayments, the lender could ultimately repossess your home.
At Loans 2 Go we offer unsecured personal loans for any purpose. An unsecured loan is not tied to your home. You can borrow up to £1000 over 18 months. There are no set up fees, and if you decide to repay your loan early there are no penalties for doing so.
Applying for one of our unsecured personal loans couldn't be easier. You can apply online at any time. Our loan application is simple, quick & secure. And once your application is approved, we aim to get the money into your account within 15 minutes. 
So if you need a quick and easy loan to help improve your home during 2020, then look no further than Loans 2 Go.