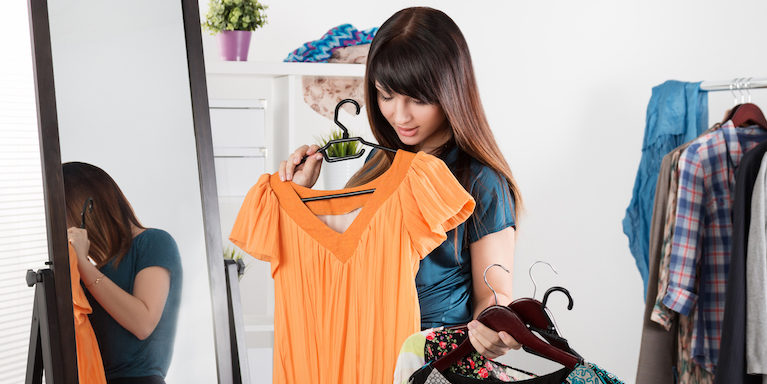 Published September 24, 2019
Look good for less this autumn, in more ways than one!
Money saving tips from Loans 2 Go… 
Summer is gradually drifting into hibernation and there is a definite feel of autumn in the air. It's that time of year when our sun tans are fading away, the summer highlights are beginning to look raggy and we realise that we need to find some warmer clothes again.
In the ideal glossy magazine world, now would be the time to have a complete autumn makeover. New hair! New makeup! And of course, the obligatory new capsule wardrobe for autumn  – in this year's colours of course. A complete restyle to take you seamlessly – and stylishly – from summer into autumn.
Which all sounds wonderful; but the fact is that most of us simply can't afford to do that. We are still broke from overspending this summer and the best we can do is probably to get a haircut and dig out all last year's autumn and winter clothes again.
But – as ever – help is at hand from Loans 2 Go. If you feel in need of a change this autumn, here are five money saving ways to go about it.
One of the biggest barriers to looking good is having too much to choose from. Whether it's clothes or shoes or makeup, if there is too much of it you are likely to waste time making choices and quite probably make the wrong ones a lot of the time. So having a major declutter is the first step to looking good. 
It is worth spending a day – or even a weekend – getting this right. Take summer clothes out of your wardrobe and drawers to make some room, and put them away to be stored for winter. Then put all your autumn/winter clothes on the bed and try everything on. Be really honest about everything. What looks good and what doesn't? What did you wear last year and what just took up precious space in the wardrobe? Be ruthless and reject anything that doesn't deserve to be kept: if you have good quality things to get rid of you can try selling on sites such as eBay to bring in a bit of spare cash.
Similarly with shoes, accessories and makeup. Only keep what works and what you will use, and ditch the rest.
Having now got rid of the stuff that you don't really need, you may find that there are different things that you do now need to make your wardrobe complete. Take time doing some research on this. Check the current fashion trends and see if there are any that you would like to use. Also think carefully about your "if only" moments from last year: the times when a particular item of clothing would have been really useful but you don't have one.
Once you have a list of a few things that will make a big difference to your autumn wardrobe then look around for those things. You do not have to buy from new, there are lots of places where you can find good quality second hand clothing. Local charity shops can have some lovely stock in; you need to go in regularly as this changes very regularly. Also check out online sources such as eBay, Depop, Vinted and HEWI (Hardly Ever Worn It). But remember to go for quality rather than quantity. It's often the case that "less is more".
Many of us find that we tend to pile on the pounds in autumn. It's a natural phenomenon: the days are getting colder and the nights are getting darker and our hibernation instinct kicks in. The problem is that we can quickly get into a "couch potato" routine that can last throughout autumn and winter. All we want to do is curl up on the sofa, watch box sets and eat snacks. 
There is nothing wrong at all with a bit of indulgence like this. We do need to feel cosy and recharge our batteries from time to time. But it is a really good idea to start building in some discipline before autumn completely overtakes us. So try to get into good habits now regarding eating patterns and exercise, then hopefully you will be able to continue these into autumn and winter. You will have much more incentive to go out for walks or runs, go swimming or to that dance class or gym session, if you get into a habit with it now. 
Hair can get very dull in the autumn. We are inside more than in summer, often in a heated atmosphere, which can dry out the hair. So make sure you do all that you can to keep hair in its best condition, by taking care of it and using hair products that are right for your hair type. 
It's also a good time to think about getting a complete restyle – a cut and colour – and this does not have to cost the earth. Try one of the following ways to save money when you get your hair done:
Local vocational colleges: they may have student salons that offer hair and beauty treatments to the public at very low prices or even for free. Students will be well-supervised by an instructor, and the standards are usually very high. 
Mobile hairdressers: they will come to your home to do your hair and are usually much cheaper than salon stylists. You may be able to get an even better price if other family members or friends also get their hair done at the same time.
Vouchers and offers: If there is a particular salon you want to go to then get on their mailing list and watch their social media pages for special offers. Also check out voucher sites such as

Groupon

and

Wowcher

for discounts and offers, or just try searching for something like "hairdressing deals" in Google.
Modelling: Many salons need models from time to time to assist with training activities. If you model for a salon you may get your hair done either for free or for a very reduced fee. Definitely worth looking into, but do check all the details before you go: ask about payment and pricing, and also make sure you know what will be done to your hair.
Swap your skills: If you have a friend who is trained as a hairdresser see if they might be willing to do your hair for free if you do something for them in return, for example cooking, cleaning, decorating or DIY – anything you are good at!
Skin also needs special care in the autumn. The colder air outside and central heating inside can both dry your skin. So make sure you use extra moisturiser during the autumn and winter, both on your face and body. It's also important to exfoliate regularly; if you simply keep applying moisturiser to the top layer of dry flaky skin it will not be absorbed as well. So gently exfoliate to remove rough skin and enable your products to penetrate fully into your skin.
If you enjoy having facial and body treatments from others then try the tips listed in the Hair section above to see if you can find ways to save money when doing this. Or why not organise a spa evening at home and get a few friends round to help each other with different treatments, and have fun in the process!
We hope that the above tips will help you to look good and feel great this autumn without having to spend a small fortune in the process. If you follow the above tips you'll be all ready for the party season which will be here before we know it!
Check back here soon for more lifestyle and  money saving tips from Loans 2 Go.