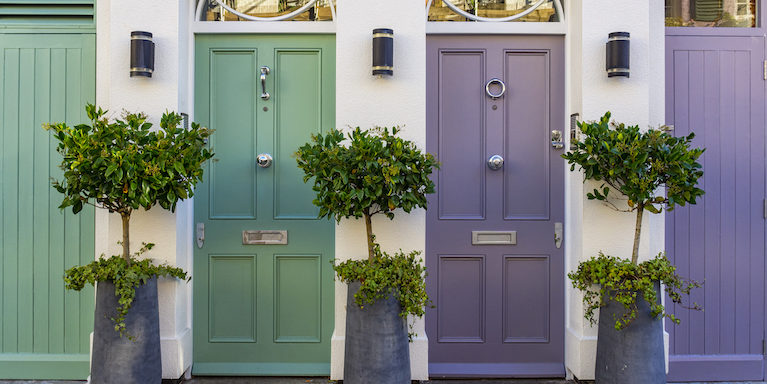 How to improve your home this spring!
Improve your home with  online loans from Loans 2 Go…
Spring has sprung and the sunshine is here. Everything seems brighter and better, and many of us feel energised and motivated to make some changes to our home. We may not have the money or time to commit to major work, but feel like doing something to brighten things up a bit.
Many of us are nervous about tackling a DIY project, thinking it could all go horribly wrong. But there is so much guidance out there – for example instruction videos on Youtube – so help is available if you are prepared to be patient and learn as you go.
With May having two Bank Holiday weekends, it is the ideal opportunity to make some small changes to your home and still have time to relax and enjoy yourself.
So here are our Top Ten quick home improvements that you can do this spring, all on a small budget:
This is always a good place to start. Some people love to declutter and relish the prospect, but even if it is something you find boring it is well worth setting aside time to do it. You will feel great afterwards and your home will look so much better.
Be ruthless and get rid of anything you don't want or need. If you are parting with anything that is still in good condition then you could also consider selling it – for example on eBay or a car boot sale – to raise some extra cash.
As the spring sunshine comes in it often highlights the fact that our walls are looking pretty tired. It is cheap and easy to fix this. A lick of paint really can do the trick. Whether you repaint them a fresh crisp white or choose a burst of colour, it can make all the difference.
You may even decide to be brave and add a feature wall either in a different colour paint or in a bright wallpaper. The choice is yours – but covering your walls will make a dramatic difference to your home.
If you have stairs then a new stair carpet can really refresh the look of your home. Nothing looks worse than grubby stairs. If your existing carpet is in good condition then it may be worth giving it a good clean to see if that helps, but otherwise why not replace it? If you look around you may well be able to buy an offcut of carpet that fits your stairs perfectly.
Another alternative is that if the wood of your stairs is in reasonable condition then you could clean and varnish it and get a narrower strip of carpet to make a stair runner up the middle.
However you upgrade your stair carpet, it will look much better and give a great first impression of your home.
Still on the theme of flooring, if you have wooden or stone flooring anywhere in your house that is looking past its best then one possibility is to paint it. There is a wide variety of floor paint available and you could change the look and feel of a whole room simply by painting the floor a different colour.
5. Refresh your kitchen cabinets
If you despair that your kitchen looks dark and gloomy, but can't afford to make major changes then why not brighten it up by changing the colour of the cabinets. Dark cabinets can absorb all the light and life from a kitchen but they are easy to change. If you are prepared to spend a weekend on this you can transform your kitchen. As long as your existing cabinets are in good condition you can clean, sand then paint them any colour of your choice. You will be amazed at the difference this can make.
6. Refinish your front door
The front door is the first impression of your home that visitors will see. But it is also the first thing you see when you get home, so if it is dingy and worn you will immediately begin to feel gloomy without even realising why.
It can be expensive to replace a front door so a cheaper option is to refinish it. You can sand the door then either revarnish it or repaint it. If the door fittings are too grimy or rusty to clean then these can be replaced easily and cheaply from any large DIY store.
Nothing makes a bathroom look worse than dirty or mouldy grouting, particularly around baths and sinks. But be aware that it not only looks bad but can also indicate that the grouting is not working as efficiently as it should so may be opening you to the risk of water leaks. But this is so easy to fix and will brighten up your whole bathroom.
If you have spots of mould then there are various sprays and cleaners around that may be able to remove these. It is worth persevering with these but if they do not work then it is quite straightforward to remove the existing grout (though you will need the appropriate power tools to do this) and put new grout in.
8. Fit new vinyl flooring in utility room
Coming back to flooring again, if you have a utility room and it's looking past its best then replacing the floor could really help – particularly if it gets lots of wear and tear from people and animals! You can use a cheap and easy flooring such as vinyl tiling which is easy to fit, very durable and comes in a wide variety of colours and patterns. Contemporary vinyl tiles are usually self-adhesive, making the fitting process even easier.
Just as decluttering your house can make a huge difference, so can clearing the garden. You do not have to be an expert at gardening to achieve this. In fact if you can rally a few people to help then you could do it in half a day – just ready for the BBQ!
First of all get rid of all rubbish and debris, then cut back any overgrown and overhanging plants or trees. Don't be afraid to be drastic about this – they will grow back. But just be careful not to disturb any nesting birds. Give the grass a good cut: if it is the first one of the year you may find you need to give it another in a few days time to achieve a smooth finish.
If this inspires you to do a bit more with your garden this year then check our our article on Summer Gardening Tips.
10. Clean your decking or patio
While clearing your garden you may notice that your patio or decking is not looking its best. They can become grubby, stained and weatherbeaten. But taking the time to clean them thoroughly – usually a combination of power-washing and hand-scrubbing works best – can make the world of difference and will encourage you to get out and use your garden more.
We hope that the above tips help you to make a few changes to your home this spring and that everything will soon look and feel better. If you need a bit of extra money to help with your improvements then take a look at our range of online loans to see how we can help.
Remember to check back here soon for more financial and lifestyle tips from Loans 2 Go.