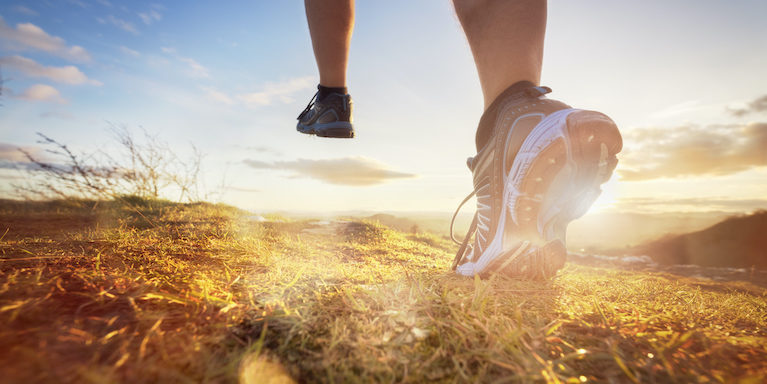 Make 2020 your fittest year yet (without breaking the bank)!
Save money on your fitness regime with help from Loans 2 Go!
Are you one of the thousands of people who plan to get fitter in 2020?  According to Yougov, 27% of us in the UK make New Year resolutions; and top of the list for most people is to do more exercise and improve fitness. In fact around half the population admit to having made that New Year resolution at some point in their lives.
But whether you stick to your New Year resolutions is another matter altogether! So if you do want to get fitter and more active in 2020, now is the time to do something about it: before all the good intentions get overtaken by everyday life again.
The problem is that most of us are absolutely broke in January. Christmas is an expensive time and January always seems like a very long month. Most of us just do not have the spare cash to start joining gyms or signing up for any kind of fitness classes. 
So here are 5 ways that you can kick start a new fitness regime in January without spending a small fortune in the process:
Walk everywhere
Walking is one of the simplest yet most effective forms of exercise. It requires no special equipment, other than a good strong pair of shoes or boots. The beauty of walking is that you can walk wherever you want to. If you love nature and the countryside you can plan plenty of walks that tick those boxes. But if you are more of a city person then you can spend many happy hours exploring your nearest town or city and get fitter in the process.
Walking is also very easy to fit into your daily routine. You can incorporate it into your commute by walking all or part of your journey, getting off your train/tube/bus one stop early, and always taking the stairs instead of the lift or escalators. Also consider walking short journeys such as to the shops or school or other daily errands instead of taking the car.
As well as being a really good form of exercise, walking in the outdoors is also an excellent opportunity to clear your head. It can help you to think things through and put them into perspective. 
Born to run?
It's funny how as children we think nothing of running around all over the place. But when we become adults it suddenly seems much more of a big deal. And yes, serious runners can be competitive and if you are considering taking up running it all seems a bit daunting.
But the big mistake many people make is to decide to take up running, buy all the gear, set off for a run the next day and come back exhausted – never to try again. However, there are many programmes around that can ease you gently into regular running. One of the best known is the Couch to 5K (C25K) programme, which features a 9-week running plan of three runs a week with rest days in between.
Once you are a confident runner, the world's your oyster! You can choose to run anywhere, any time, and keep fit for free.
Home exercise
Many of us prefer to exercise at home, and it certainly has its advantages – particular when it's cold and dark outside. There are so many ways that you can do this. Some examples are:
Invest in one or more pieces of second hand fitness equipment – such as an exercise bike – and use on a regular basis. Check out sites such as

eBay

,

Facebook Marketplace

or

Freecycle

for cheap or free gear.

Search for a Youtube video for whatever kind of exercise you like doing and follow along.

If you enjoy dancing, put on your favourite playlist and get footloose!

Create a fitness circuit using everyday household items. For example use tins instead of weights, stairs instead of a step machine, door lintels for pull ups, and the floor for press ups, planks and stomach crunches.
.
The great outdoors
There is so much out there that you can use to keep fit!
Firstly, nature itself. We've already looked at walking and running, but if you love swimming then there are endless supplies of seas and lakes where you can swim for free. In colder temperatures a wetsuit is advisable: again check out the sites mentioned above to save money. If you want to do this as part of a group then check out the increasingly popular Outdoor Swimming groups across the UK.
If you prefer to use fitness equipment then many local parks have facilities that may be just what you are looking for. There may be playgrounds with equipment such as climbing walls and obstacle courses that are suitable for adults, or even an outdoor gym.
Also look out for different community activities that incorporate fitness. For example Green Gyms. Run by The Conservation Volunteers, Green Gyms offer practical activities such as planting trees, sowing meadows and establishing wildlife ponds. The emphasis is very much on health and fitness, and some Green Gym sessions see volunteers burning a third more calories than in a typical aerobics class!
Gym bunny
Perhaps reading this has made you realise that you are a gym bunny at heart, and really want to join up as you know this is your ideal way of keeping fit. If you can't afford to do so this January, don't despair! Many gyms offer either free day passes or a few days' trial period. So you could take advantage of one or more of these to see you through January. This would also help you to choose the right gym for you once you are able to pay to join one.
So check out your local gym to see if you can get a trial offer there. Some of the big chains that offer free day passes or trials are: 
There are also bargain gyms around – such as The Gym – with low monthly fees and no commitment to a contract. Some are open 24/7 and some offer a range of free classes. Definitely worth a look.
So whatever form of exercise you choose to see you through 2020, good luck! We hope that the above ideas help you to get your fitness regime off to a flying start.
Check back here soon for more lifestyle and financial tips from Loans 2 Go.