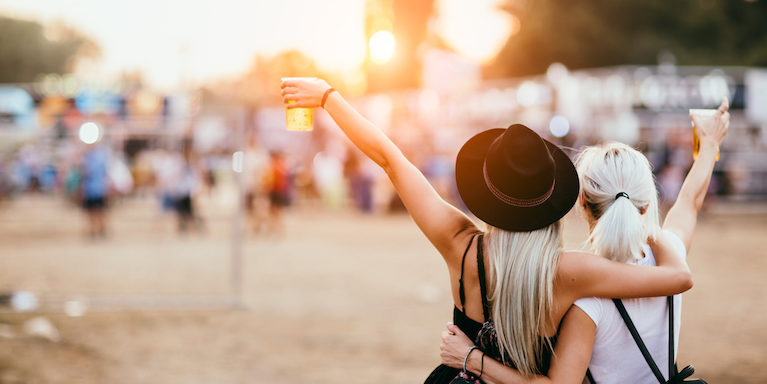 Money saving ideas for summer festivals
Top money saving tips for Festival Fun this summer…
Summer is nearly here – at least we hope so! But the recent wet British weather is certainly not bringing joy into the hearts of this year's festival organisers.
Even though some festivals – such as Glastonbury – have something of a tradition about being muddy, sometimes it can just get too much. Some fans left the recent Download festival because at Donington Park because of the weather, describing scenes of "impassable muddy sludge everywhere".
So if you are heading for a festival this summer, what can you do to protect yourself against the elements? And what should you pack to ensure that you have everything that you need and can save money whilst at the festival?
Here are our top tips for festival fun:
First and foremost due to the recent weather, it is a really good idea to keep spare sets of dry clothes and bedding in the car. Then if the wet weather continues, at least you have something to fall back on and won't spend the whole festival feeling cold and damp.
Do not be tempted to scrimp on the size of your tent. You should ideally aim for a tent that could accommodate at least one more person than you need to fit into it. This will give you plenty of room for all your stuff, which is particularly important if you are trying to keep damp things separate from the rest.
A rubber mallet and gaffer tape
The mallet will help you to put in your tent pegs more quickly and save you a lot of effort. Gaffer tape is invaluable for patching up rips and tears in your tent: really important to stop that rain getting in!
Sleeping bag and pillowcase
OK, you may not expect to get much sleep at the festival but make the most of every minute with a top quality sleeping bag. First priority this year has to be a waterproof one – just in case the rain seeps in. Also make sure that your bag is going to be warm enough, as the nights can get chilly even in summer. Take a look at a four-seasons sleeping bag to keep you warm and toasty. Experienced campers advise against taking a pillow: instead use a pillowcase stuffed with soft dry clothes.
Taking chairs can seem like a bit of a faff, but you will really appreciate having somewhere comfortable to sit – especially if the ground is damp. Well worth it. At some of the smaller festivals you can also take chairs into some of the stage areas, so it's win-win! Blankets are a good idea too, to wrap round you at night while you sit and put the world to rights!
Taking a small stove can make a huge difference to your comfort at a festival. Whether you just use it to make tea, coffee and breakfast in the morning, or use it for most of your meals, it is worth taking. If you add up the cost of buying everything on site it can become very expensive very quickly. So taking a stove is both a practical and money saving tip.
This may seem a bit old-fashioned, but it is lovely at a festival to eat and drink with proper implements rather than using plastic and card all the time – and much more environmentally friendly too. Whether you plan to buy food there or make it yourself, it definitely tastes much better with proper crockery and cutlery!
Not the bathroom cabinet!
At a festival you really do not need a lot of toiletries. So don't overpack – because you will then have to lug them around unnecessarily. It is better to plan to survive with wet wipes, dry shampoo and deodorant and just take these rather than packing lots of lotions and potions that you are unlikely to use. But do remember to pack a few basic first aid essentials just in case you need them.
This is such an obvious thing but something that many of us forget. But a torch is invaluable for wandering around at night, changing clothes in the dark, or trying to find things in your tent or rucksack. Make sure you get a waterproof one!
By default we take our phones everywhere – often new, expensive smartphones. But have a think about whether you really need to? There is so much going on, so why not just enjoy the moment instead of burying your head in your phone. If you leave your phone at home you also avoid the risk of it getting lost, stolen or damaged. Maybe better to get a very basic pay as you go phone in case of emergency and leave yours at home.
We hope that you enjoy the festival season and that the above tips help you to pack wisely. Do check back here soon for more money saving and lifestyle tips from Loans 2 Go.