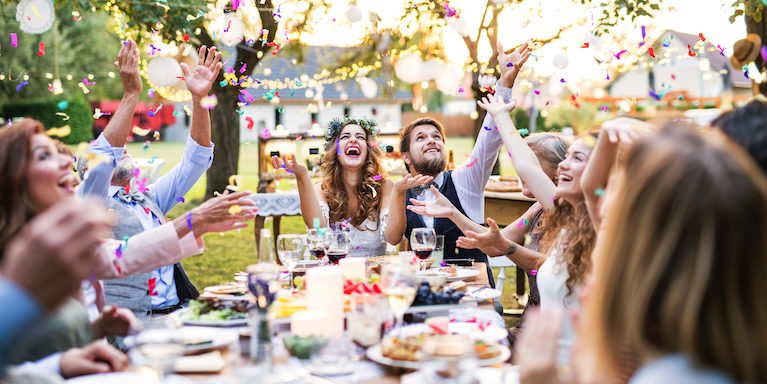 Four weddings… And a hefty overdraft?!
Online loans to help with the cost of 'wedding season'!
Summer is approaching… Which means that we're about to hit wedding season.
During 2018 the month of August was the most popular month for weddings in the UK, followed closely by September and July. 48% of weddings in the UK took place across this three month period last year. And if you want to find out how popular any particular day is then try this calculator that the BBC produced at the time of last year's Royal Wedding of Prince Harry and Meghan Markle!
It's also estimated that people attend an average of two weddings a year, particularly millennials (ie those aged around 23-38) so chances are that you may have at least one wedding to attend over the next few months.
Which is all very lovely but going to a wedding does cost money. According to recent research from American Express, wedding guests in the UK will spend an average of £391 each when they attend a wedding.
This seems like an awful lot of money, but when you start adding everything up it makes sense. The research found the following average categories and amounts of expenditure:
Hotel – £72

Outfits – £68

Gifts – £66

Hen/stag do – £58

Travel – £57

Drinks – £45

Hair and beauty – £25
So if you are going to one or more weddings this summer you are going to need to find the money to be able to do that!
Firstly have a look at where savings that can be made: hopefully looking at the above list you will see areas where you can make economies. For example you could see if there are family and friends that you could stay with instead of going to a hotel. You could either buy an outfit in a sale or from eBay or just wear something that you already have. So it pays to go through the list and plan your expenditure carefully.
But the bottom line is that you will still need to spend some money to go to the wedding. If you are really stretched financially at the moment then one option is not to go. And sometimes we need to make those difficult decisions in order to keep ourselves afloat financially.
But if it is a really important wedding and you just can't miss it then another option to consider is taking a small short term loan just to tide you through the next few months. This is where Loans 2 Go may be able to help.
Loans 2 Go offer a range of online loans for any kind of expense or purpose. Our loans are quick and easy to apply for and if your application is accepted then we aim to get the money to you within 60 minutes. You can apply online for our loans or you can call us on 0330 400 0403.
So if your finances need a boost this wedding season then why not see whether an online loan from Loans2Go may be able to help?