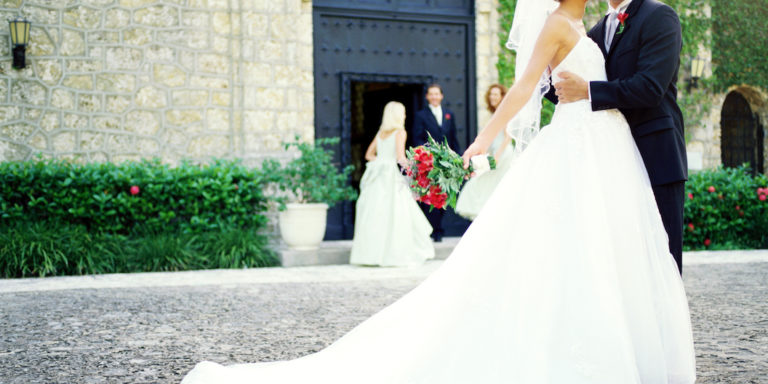 Wedding hacks on a budget:
PART 1
The Royal Wedding is still fresh in our minds. Whether you are a big fan of Harry and Meghan, and watched every minute –  or whether you preferred to avoid the whole thing – there is no doubt that it was a spectacular event that will be remembered for years to come.
But it has particular significance if you are currently organising your own wedding. Perhaps it has given you some new ideas for things that you would like to do? The only slight problem may be the cost ….
So in this four-part series we will look at the following aspects of organising a wedding, and some money saving tips for each:
Venue and decoration

Food

Dress

Entertainment
We will start by looking at the venue and decoration.
Deciding the kind of day that you want
The first thing you need to decide is the kind of wedding that you want. This is really important. It's essential to remember that the choice is yours and yours alone. It is easy to let others influence you away from what you really want so it can be a really good idea to have a clear idea of what you want before letting anyone else know.
You need to decide:
Do you want a separate wedding service and reception or them both in the same place?

Do you want a traditional building – for example a church or stately home environment – or something more contemporary?

Do you want a religious service or a more general one?

How formal or informal do you want to be?
You – and only you – can make these decisions. But once you have made them, you then need to decide the budget you can afford for the wedding in order to make your dream day become a reality.
Choosing the right venue
So you have an idea of the kind of day you want, and the money you have to spend. If you are on a limited budget, where do you start?
The first thing to consider is that of course you want your wedding day to be special, but it is only one day and just the beginning of the rest of your married life together. Once you get into the detail of organising your wedding it is so easy to throw caution to the wind and start overspending: but you are likely to regret it afterwards.
So your challenge is to make the day everything you want it be but without landing yourself in debt that you may then be unable to repay.
With this in mind, when choosing your venue, think carefully about whether you know anyone who can help. In fact, if you are organising a wedding on a budget then a really good tip is to call in favours from friends in lieu of wedding presents. This can apply to any aspect of the wedding.
So when looking for a venue do you know anyone who, for example, is involved in a church, runs a community activity, works in a hotel, or even has access to a large garden. Any combination of these could help you to organise your perfect day.
Also be prepared to think outside the box. Just think back to the comedy series Friends: Monica's dream wedding in a historic English building took place in its ruins instead after it was demolished. Phoebe's venue was snowed off so the wedding was relocated into the street outside Central Perk.
The point being that there are always options available it you are willing to be flexible.
Even if you have set your heart on a particular venue that is a little outside your price range, then why not consider asking your friends and family to crowdfund the wedding instead of giving you separate gifts? These days, many people already have all the household items that they need when they get married: so rather than ending up with a load more "stuff" why not get everyone involved giving you your dream day to remember?
What time of year?
Traditionally, summer is the time for weddings. But if you are on a tight budget you may find things much easier financially at a different time of year. The good old British weather is not guaranteed at any time of year, so don't let weather become the only reason for a summer wedding.
Spring and autumn can both be a lovely time of year to get married, with plenty of possibilities for glowing sunshine and pretty colours. If you are prepared to dress more warmly then a winter wedding can be very glamorous and fun. All these seasons present a wealth of opportunities for a wedding with a difference; and venues can  often be cheaper outside the summer season.
Also don't automatically think that your wedding has to be on a Saturday. Why not go for a weekday? Yes your guests may need a little more notice in order to be able to take time off work to be there, but venues can be a lot cheaper and have more space available during the week than at a weekend.
Decorating your venue
No matter how plain your venue, you can personalise it and make it  your own with skilful decoration. Think back to the beautiful leafy archways at the Royal wedding, and you can get an idea of how to start. Leaves, flowers, candles, fairy lights – anything is possible and can transform the venue to just the way you want it to be.
You may want to choose a seasonal theme for the decorations. For example a spring wedding could be based on a colour scheme of greens and yellows, an autumn wedding oranges and golds, and a winter wedding of purples and silver.
Decorating the venue is another opportunity to enlist the help of family and friends: you could even build in time the day before to decorate the venue and make it a bit of a party as you go along.
The possibilities are endless: but do not have to cost a small fortune.
We hope that this has given you some useful ideas and inspiration for organising your wedding. Check back here soon for some money saving tips about wedding food!