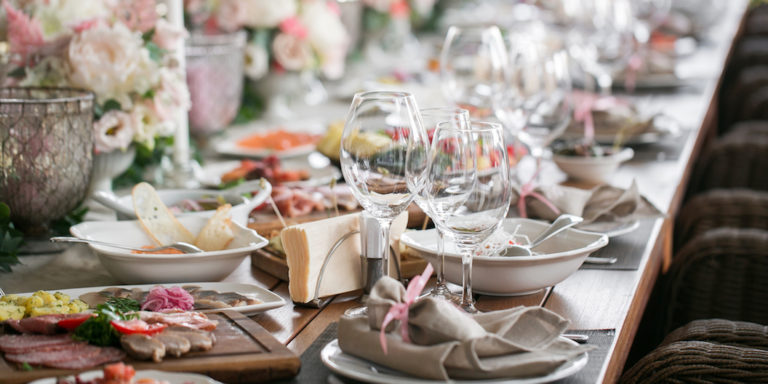 Wedding hacks on a budget:
PART 2
In this four-part series we are looking at the following aspects of organising a wedding:
Venue and decoration

Food

Dress

Entertainment
Our last article  focused on the venue and decoration. In this article we think about food.
We will look at two scenarios. The first where you are having your reception or party in a venue that provides food as part of the service. The second where you have rented a venue but need to provide your own food.
Food provided by the venue
If you are having your wedding reception/party in a venue (for example a hotel) that is also providing the food, you will need to try and negotiate the very best deal that you can, in order to save as much money as possible. Whilst many people choose to seek extra funding such as online loans for their wedding, it is good to keep the costs down wherever possible.
These tips should help:
Choose the timing of your wedding carefully. Some venues will be happy to negotiate as it is better for them to have a booking than an empty venue, especially during quiet times. So weekdays and weekends out of peak season ( June to September, Christmas, and Valentine's Day) is your best chance.

Risk going short notice. In a similar vein, many venues offer deals for booking at short notice ie weeks ahead rather than months. Again, the rationale being that it is better to have a cheaper booking than an empty venue,

Look carefully at the venue's price list and work out how much discount is reasonable to ask for. Anything between 10-20% is worth a try, but gauge it carefully: if you ask for too much you may get a flat refusal but if you ask for too little you could be missing out. Always leave a bit of room for manoeuvre, either up or down.

If you are not getting much movement on the overall price then why not try ask whether they would consider either offering room hire without in-house catering, or in-house catering but with corkage fees instead of wine. If you are able to organise your own food and/or wine, that could save a lot. Read on to find out more!
Food provided by you
We will assume that you are having either your wedding reception or evening party – or both – in a venue where you need to provide the catering separately. Try the following tips:
Your first option is to decide on the kind of menu you want then approach various caterers to see who can offer it at the lowest price. You may then be able to use the cheapest price to try and get the price even further down with other suppliers.

You may also want to try looking around your area to see if there are any family-owned restaurants that may be interested in doing the catering for your wedding. Family-owned restaurants are a good place to start as they are likely to want to make your wedding special and be more understanding of your budget constraints.

Also remember that with any small business, it can be a great incentive if you offer to pay some of the cost upfront. But make sure to check companies out very carefully  – including reviews and recommendations – so that you are not being unwise with your money. Whilst they will love the idea of cash upfront, you need to keep some of the money back just in case anything goes wrong.

If the above options do not work out – or if you would prefer to be more hands on – the obvious thing is to organise the catering yourself and get friends and family involved. Most people are happy to do this and will roll up their sleeves and get stuck in. All you should need to do is choose the menu and make a list of all the dishes you require, then let people choose what they will bring. You can either give them money to cover this, or make it clear that these contributions are instead of a wedding present.

It is also a good idea to stock the bar yourself, if the venue permits this. You can then either offer a free bar or could offer some items free but ask for a contribution on more expensive items. Alcohol can generally be bought cheaply at wholesale stores, and also look out for special offers from supermarkets.

Beware the false economy of buying huge kegs, casks or boxes of wine: there are bound to be leftovers which could then be wasted. It is more expensive initially to buy bottles and cans, but it does mean that any excess items can be stored for future events. Or you may want to check out various drinks retailers who supply products on a sale or return basis.
So there are various ways which can enable you to cut the cost of food for your wedding but still have a wonderful time! We hope that these tips will help you to keep the costs of your wedding food as low as possible. Our next article will be about how to save money on the dress!