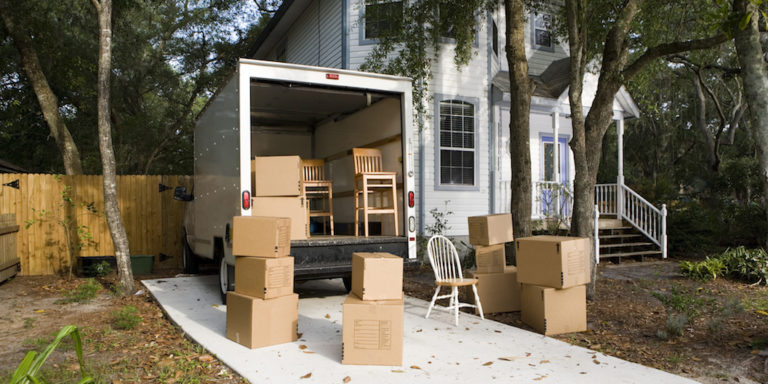 When is it the right time to downsize?
It's all about the right size! Cover the costs of moving with an unsecured personal loan from Loans 2 Go!
Time passes so quickly. It seems that one minute you are struggling for space because every available inch is full of the mess and clutter of everyday family living. Yet before you know it the children have grown up and moved on, and suddenly you are rattling round in that same space – which now seems rather too large.
But should you stay or should you go? The term "downsizing" can have some negative connotations in our minds, so perhaps a better way of looking at it is "rightsizing". What is the right size for the home that you need right now?
Many people are reluctant to part with their family homes. There are so many memories within those four walls that it seems impossible to leave. For many parents the "empty nest syndrome" is bad enough in itself without even beginning to think of abandoning that nest!  So never rush into a decision.
Benefits of staying
If your home is affordable and practical then stay put. One thing you could do is to reconfigure the space so that it is more fitting to meet your current needs. So for example you could convert a bedroom to an office or study, or use that second reception room as a hobbies room.
If you want to stay where you are but need some additional funds to improve your home then there are various ways you could approach this:
Let out a room.

This could be a good way of using your empty rooms and making a bit of money at the same time. You could either look for a permanent lodger – perhaps a young person recently moved to the area or someone who travels for work and just needs a room during the week. Or you could go for temporary lets using something like AirBnB. Either way you could put that spare space to good use.

Take out a loan.

Because you are a homeowner there are all kinds of secured loans available, but you do not have to secure a loan on your home: Loans2Go offers

unsecured personal loans

for a variety of different purposes. We also have a

Premier Personal Loan

that is an

unsecured personal loan

but only available to homeowners. So whatever your loan requirements there will be the ideal product for you.

Remortgage or equity release

. You may also want to investigate remortgages or equity release schemes (often called lifetime mortgages) as a source of additional funding, although take financial advice as these methods of funding can impact on your ownership of your home.
Benefits of going
There can be advantages to moving from your current home if you no longer need the space. Some of these are:
Getting out of debt.

Selling a larger home and buying a smaller one may mean that you end up with either a smaller mortgage or no mortgage at all. Either way, this is an opportunity to pay off debts and then keep out of debt as your monthly outgoings will be a lot smaller than they were before. So if you need to make a fresh start financially, then selling up could help.

Having money available.

During the process of selling your home you may decide to put aside some of the proceeds for something special. Whether this is a new car, the holiday of a lifetime or a family wedding, you will have the security of having funds in place for whatever it is that you want to do.

Less home maintenance

. Moving to a smaller home will not only save you money but will hopefully also save you time. A smaller number and size of rooms – and perhaps a smaller garden – should make your home easier to clean and maintain, leaving you more time to enjoy life!
Whatever you decide, we hope that you enjoy the home of your choice for years to come. If you do decide to move and need some additional funding to tide you over the moving process itself, then do remember that we offer unsecured personal loans that could help to bridge the gap while you move from one home to another. Just get in touch with us at Loans 2 Go to see how we can help.