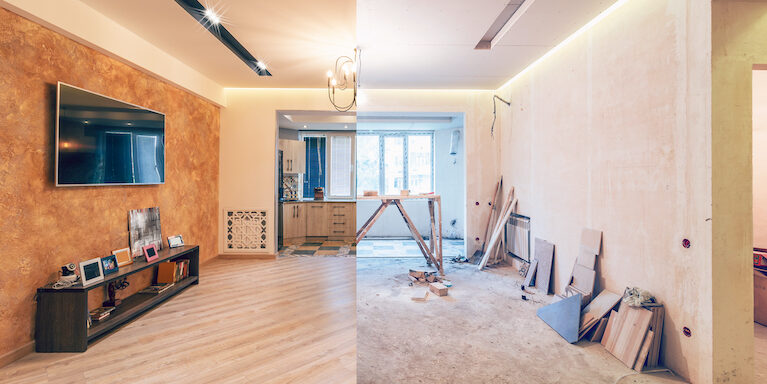 Published December 24, 2020
The best home improvements for 2021!
So as we move into 2021, what are your plans? 
Many of us will be ready to improve our homes, particularly after the dismal washout that was 2020.
But if you are planning to improve your home, what are the best improvements to make? As 2020 has shown us only too clearly, life is full of twists and turns. Which means that if you do want to make home improvements, you need to think not just about what you want, but also what might add value to your home if for any reason you decide to move.
So here are our Top Five Home Improvements to consider making in 2021. Improvements that not only will you enjoy, but will also be a good investment if you do decide to sell in the not-too-distant future.
First impressions count
Whatever you decide to do to the inside of your home, make sure that you also get the outside spruced up. First impressions really do count, and this does not just apply to visitors and prospective home buyers, but also to you. Just think, when you return home after work or a social event, how do you feel when you see your home? Is it a warm and welcoming feeling or do you immediately feel overwhelmed by the sight of all the things that need doing?
Sorting out the exterior of your home is normally fairly low in cost but can make a huge difference to the ambience of your home. Some simple things you can do are to:
Repaint the outside of your home as needed;

Repaint or replace your front door;

Fit tasteful door knobs, letter­boxes and keyholes; 

Trim away any intrusive foliage;

Put up hanging baskets;

Ensure the front garden and path are neat and tidy.
An appealing exterior can add an estimated 2-3% to the value of your property. So giving a bit of time and effort to this is well worth it.
Create more internal living space
If there is any possibility of creating more internal living space in your home then this is definitely worth considering. Some options for this are to convert a loft, a garage or a cellar.
A well-done loft conversion to create an extra bedroom could add around 15% to the value of your home, especially if you also include an en-suite bathroom. It also helps if the loft extension gives access to a lovely view. If your loft extension can be constructed within the existing roof space, it should not require planning permission. But you will need planning permission if you go for a mansard conversion, as this involves extending out from one or both roof slopes to create more headroom inside. 
Another potential option is to convert a garage, if it is space that you are not using. You could convert it into another bedroom, a snug, or an annexe – perhaps even with rental potential. Just be aware that if there are parking issues where you live then a future potential buyer may value the garage. Even if you don't use it for your car, they may want to do so.
If you have a good-sized cellar, then converting it into living or storage space is a good option, particularly if you live in London or another city where space is at a premium. Generally you will not need planning permission to do this unless you live in a conservation area. If in doubt, speak to your local council.
Improve your kitchen
Have you noticed the growing obsession with food in the UK? Along with this, there is the increasing popularity of being able to treat your kitchen as an extended living space rather than just the area where food is prepared. So more and more people are wanting to be able to stand around and socialise in the kitchen, or sit down and relax, as well as preparing and eating food.
This means that if you have the opportunity to extend your kitchen to make it more open plan, this is definitely worth doing. If not, then at the very least try to improve the layout so that part of the kitchen could become a little more of an open plan living area.
If there is no possibility of making your kitchen more open plan, then one thing you could definitely do is to update your existing kitchen. Rather than replacing your entire kitchen – which can prove not to be a good short-term investment – you may want to consider cheaper options such as replacement kitchen doors and worktops. These can give your kitchen a new lease of life at budget cost, and make it look lighter, brighter and more contemporary.
Add or improve a bathroom
A new en-suite or additional bathroom could add around 5% to the value of your home, according to the Nationwide. If you are considering adding a new bathroom then it could be easier to try and tie this in with any other improvements you are doing, such as a loft conversion, rather than trying to reconfigure existing parts of your home.
But one of the times when you might want to consider a reconfiguration of your home is to move a bathroom upstairs. If you only have a downstairs bathroom this could make your home difficult to sell. A viable option might be to sacrifice a small upstairs bedroom and convert this into a bathroom instead. Taking a bathroom up a floor will not be cheap but can add significant value to your home. 
A cheaper bathroom improvement option is to refurbish an existing bathroom. You can save money on bathroom refurbishment by keeping your existing bathroom layout and just replacing the fixtures and fittings. You may be able to save even more if you can get a deal on a complete bathroom suite rather than buying pieces individually.
Make the most of your garden or roof space
When making home improvements don't forget about your garden. It can be very easy to neglect it and let it get messy and overgrown. Whether you are planning to stay in your home or put it on the market, a well looked after garden looks lovely and is something that the whole family can enjoy. 
You can also improve access into your garden by installing bi-fold doors in your home. These can have a very positive impact on the appearance and value of your home, and can also open up your daily living space in the summer months by making the garden an extension of your home.
For the ultimate extension of living space into the garden, see if there is any possibility of installing a garden room. This could be used as a home office – much in demand these days – or workshop, studio or therapy room. If you were also to install plumbing and a small en-suite bathroom your garden room could also be used as a guest bedroom – or even an AirBnB let to bring in some extra income.
If you have roof space then consider using it as a very on-trend  'living roof' by adding an array of vegetation and plants, plus a comfortable seating area. This could be a real asset not only to you and your family, but also any future prospective buyer.
We hope that the above information is helpful when planning how to improve your home in 2021. If you need financial help to do this, remember that Loans 2 Go offers online personal loans which you could use to boost your funds to get your home improvements done.
Good luck with all your home improvement projects, and remember to check back here soon for more lifestyle and financial tips from Loans 2 Go.