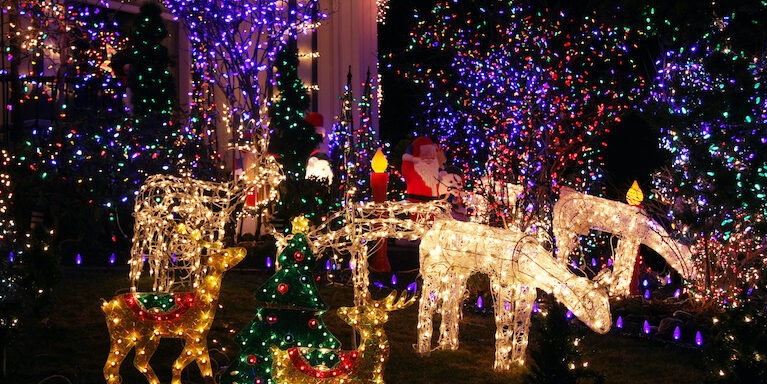 Published December 1, 2020
Tis the season to be jolly? 10 ways to bring the fun back!
In the words of Boris Johnson, "Tis the season to be jolly careful". 
With the ever-changing Covid restrictions, does this mean that we can't have any fun this Christmas? Might we just as well forget Christmas for this year?
It would be tempting to think like this, with the amount of Christmas events, entertainment and hospitality venues that are currently being closed, postponed or cancelled altogether. 
Most of the country is now under Tier 2 or Tier 3 Covid restrictions. There is also the five day window from December 23rd to 27th when up to three households can form a bubble and mingle. 
At the time of writing, these bubbles can meet:
in each other's homes

at a place of worship

in an outdoor public space, or garden
But they are not allowed to go as an extended household to:
hospitality settings, such as pubs and restaurants

entertainment venues.
So what kind of fun things might you be able to do either in the run up to Christmas with Tier restrictions, or with your bubble over the five days of Christmas?
Top Ten ideas to put the jolly back in Christmas
1. Christmas light displays
Outdoor Christmas light displays are one of the things that most people can safely do over the Christmas period whilst still being able to social distance. There are many fantastic Christmas light displays across the country, for example:
The Botanics, Edinburgh

Blenheim Palace, Oxfordshire

Castle Howard, North Yorkshire

Hopetoun House, West Lothian

Eden Project, Cornwall

Kew Gardens, London

Gibside, Gateshead

Westonbirt Arboretum, Gloucestershire

Chester Zoo, Cheshire

Carnaby Street, London
Also check for local events close to home. 
2. Neighbourhood lights
Another wonderful source of Christmas lights is your local neighbourhood. Many residents take great pride in their Christmas lights display, and some streets become well known for them. Some homes may also use their lighting displays as a charity fundraiser. So do a little research to find the best places in your neighbourhood to see some fun Christmas lights, and take your bubble along.
3. Christmas markets and events
Sadly, many Christmas markets and other events have been cancelled in 2020 due to Covid. There are a few Christmas markets that are still running, for example Cardiff, Swansea and Truro. Plus plenty of online markets for you to enjoy. But do check locally to see if anything is happening in your area. 
Another trend for 2020 is drive-in events. For example, Conifox Adventure Park in Edinburgh is offering visitors the opportunity to meet Santa and his helpers in a unique drive through experience. Meanwhile, look out for The Parking Lot Social which is organising fun drive-in Christmas events throughout December in London, Manchester, Liverpool, Glamorgan, Edinburgh, Glasgow, Bristol, Birmingham and Dundee.
4. Christmas Carols
Under the new Tier system, all places of worship will be open. So look out for Christmas carol services, and check any restrictions or requirements before you go. There may well be outdoor carol singing events local to you as well. But if you are unable to get to a carol singing event, then do check the various options available on TV and online.
5. Breathe the air
Sometimes all we need to do for a quick boost is to get out into the fresh air. Whether you organise games or a treasure hunt for the kids, or just head off for a nice long walk, it will make everyone feel better. Why not take some light refreshments with you as well for a mini winter picnic?
6. Ice Skating
Perhaps you've always dreamed of ice skating in some exotic winter venue? But sadly the options this year in the UK are pretty limited. However, the Queen's House Greenwich ice rink is still opening between 5th December-24th January with reduced numbers. So if this is your Christmas dream, and you live near enough to get there, it may still be possible.
7. Pantomimes
Most pantomimes have been cancelled, but there are a few that are going ahead in socially distanced ways. So do check locally to see what the situation is in your area. One that is running is Pantoland at The Palladium, which is being supported by The National Lottery. The Lottery is buying seats that cannot be used because of social distancing, and is also donating 20,000 free tickets to Lottery players.
Another one to watch out for is the drive-in pantomime Horrible Christmas. It is run by Car Park Panto and audience members watch from inside their cars. Locations include Birmingham, Bristol, Cardiff and Edinburgh, as well as Glasgow, Liverpool, and Manchester. Many venues are already sold out but you can find more information and join the waiting list here
8. Games nights
In 2020, most of us have had to learn to make our own entertainment. So if you are hosting a Christmas bubble, why not organise a games night?  You may prefer board games, or more active games like Pictionary or charades. Or how about some old fashioned party games like musical statues, musical chairs, pass the parcel, pin the tail on the donkey, treasure hunts, or even Murder in the Dark?
Whatever you choose, a few games – plus prizes of course – can fill a very enjoyable festive evening.
9. Online socials
Zoom and other sharing technology have been one of the big hits of 2020. So why not put this to good use over the festive season and arrange some online socials with family and friends? Whether it's drinks and chat, quizzes, party games or even karaoke, you can all share the fun even though you are not physically in the same room.
10. Family time
Another thing that 2020 has really taught us is the importance of just being together and being there for each other. So don't feel that you have to fill every minute of the festive season with endless activity. Sometimes it's good just to put your feet up and chill out together. Wear whatever you want, eat and drink whatever you want, and put on a Christmas movie or music. And just savour the moment together. 
2020 has been a very difficult year for most of us. All of us at Loans 2 Go hope that whatever you do this Christmas, you enjoy every minute, and that 2021 is a happier and better year for us all.