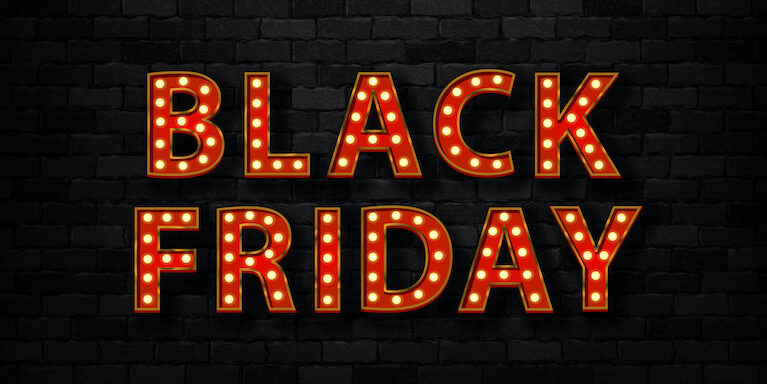 Published November 22, 2020
It's baaaaaaack! Are you ready for Black Friday?
Grab a bargain with online personal loans from Loans 2 Go!
Black Friday this year is Friday 27th November. It's the biggest shopping event of the year. But Black Friday 2020 will be very different from normal.
How will Black Friday be affected by Covid-19?
Most parts of the UK will be under high levels of Covid-19 restrictions on Black Friday. Which means that a lot of stores will be closed. Even those that are open will be operating strict social distancing.
All this means that we will not see the usual queues of Black Friday bargain hunters, or people fighting each other for TVs and other gadgets. This year, most of the action will be online.
Traditionally, Black Friday is followed by Cyber Monday, the online version of sale day. But this year, it is likely to be one long weekend of online shopping.
You may also find that lots of retailers start their Black Friday sales earlier this year. They may have more stock to shift due to lockdown, so will run their Black Friday sales for longer.
Excess stock could also mean that you might be able to pick up an even better bargain than before.
However, you may find that websites run more slowly this Black Friday due to increased numbers of online shoppers, and deliveries may also take longer if the volume of sales is higher.
What will be on sale on Black Friday?
But is Black Friday really worth all the hype? Is it not just some kind of shopping frenzy to shift old stock, with no real bargains to be had?
It is true that you need to shop carefully to bag the best bargains, and we will look at this below. But just looking around at some of the early information about Black Friday sales this year, you can expect to find good reductions on a wide variety of goods, including:
Smart TVs

Laptops

Phones

Kitchen appliances

Electronic toys

Beauty gadgets

Perfumes and cosmetics

Champagne
Some of the retailers that are definitely going to be involved are:
Amazon

Argos

Asos

Boots

Currys PC World

Debenhams

John Lewis

Nike

O2

Superdrug

Very
It is worth regularly checking the websites of the above retailers, and others that you are interested in, to see what they are saying about Black Friday and whether they are starting their sale early.
How can you find the best bargains?
We have mentioned the need to shop carefully to bag the best bargains. But how do you do this? 
There are five things that you need to do:
Decide what you want to buy.

It is really important to be single-minded and look for specific things, otherwise you can get caught up in the excitement and end up buying things you don't really want or need.

Do your product research

. Knowing the brand(s) that you prefer, and the essential features of the item you are buying, will really help you to get the exact product you are looking for. 

Find the best current price.

Start looking now to get an idea of what the genuine full price is, then look for what pre-Black Friday offers are already available. Find the retailer(s) that are offering the best price now. Then when it comes to Black Friday, you will have the knowledge to be able to see whether or not what you're buying is a real bargain.

Don't get distracted.

We have already said that there is a lot of hype around Black Friday, and on the day you can start to panic that you are not going to get the bargain you are after. So you can get drawn in by other offers that are screaming out at you and end up buying things you don't need, just because they seem to be a bargain.

Read the small print.

If you are buying from a site you have not used before, just check what their returns policy is. It's always possible that the item may not be suitable and you don't want to get stuck with it.
What if you don't have enough money?
Always remember that a deal is only a good deal if you can afford it. So don't be tempted to spend money that you don't have on things that you don't need.
But what if you are in the situation when there is something that you genuinely do need? For example, your fridge freezer is broken and there is an ideal replacement on sale for half price on Black Friday. But you don't have the money right at the moment. 
If you could afford to spread the payments over a few months, then one solution could be to take out a small loan to buy the product now. Loans 2 Go offer online personal loans. You simply apply online, and if your application is accepted we aim to get the money into your account within 15 minutes. 
Soon enough to grab that bargain!
Beware scams!
In our recent article Don't Get Scammed! we looked at different ways that people can try to scam you, and how to protect yourself from this. But at busy times like Black Friday, when you are likely to be doing more shopping online than usual, you may easily be caught off guard. 
So just be careful and never give personal or financial information away either online or by phone unless you are absolutely sure that it is genuinely needed for a transaction that you know about. 
And if you do think you have been scammed, then contact your back right away.
We hope that you have a good Black Friday this year, despite the Covid-19 restrictions. Shop carefully and you will hopefully end up with the bargains that you are looking for.
Check back here soon for more financial and lifestyle tips from Loans 2 Go.