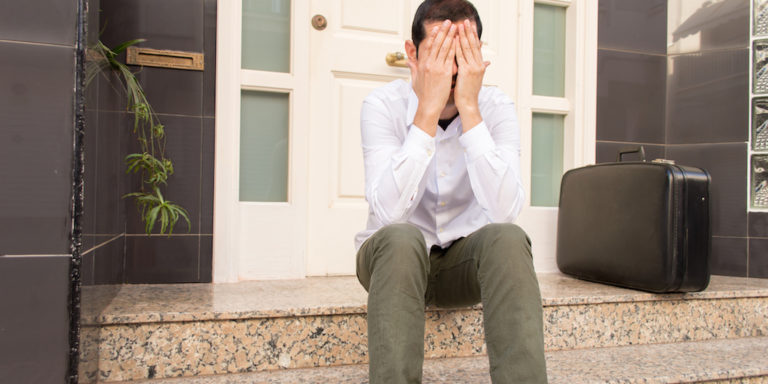 Domestic Disaster:
Getting locked out
Loans 2 Go offer quick online loans when you need money fast!
What on earth do you do if you get locked out of your home? You've always intended to leave a spare key either hidden somewhere safe or with one of your neighbours.  It's just you never got round to it.  So here you are, you can't find your keys and you can't get in.  What do you do?
Here are seven steps you can take if  you are locked out:
Yes hopefully you are so security conscious that they are all locked but you never know!  It is worth trying back doors and patio doors just in case.
These should also all be shut if you have been out, but you may have neglected to do this.  If there are any open that you could either safely climb through, or can reach a door from, then you may have your answer.  Don't be afraid to ask for help from a friend or neighbour, whether it's to supply a ladder or just to stand guard and make sure you're ok as you try to get in.
Try the dog door or cat flap
Unless you have a particularly large pet, you are unlikely to be able to get through yourself!  But there is a slim possibility you might be able to feed something through a pet door and hook some keys out with it.
Again, a slim chance, but sometimes door locks on neighbouring homes can be similar enough to enable you to force entry with another key.  Worth a try anyway!
We've all seen those movies where some hero or villain effortlessly opens a lock with a credit card or coat hanger or some other device.  Probably far-fetched but still worth a try: and a good opportunity to call the bluff of that neighbour who always boasts he can pick any lock in 10 seconds!
A bit drastic but it just might work.  If you can borrow some tools from a friend or neighbour, depending on the type of lock you have it may be possible to unscrew the whole door handle and lock mechanism to get the door open.  Hopefully you will then be able to put it all back together once you're safely in your home.
On the one hand this is the last resort but it's also probably the best.  Whilst it can become an almost exciting challenge to get back into your home yourself, there are times when you do need professional help.  A locksmith will get you into your home as quickly as possible with the least amount of damage.  So once you have tried some of the above ideas and realise that you really can't get in, admit defeat and give them a call!  A locksmith will come at a cost, however.  Your insurance company may cover the cost but if not, there are other options such as a small loan to get you through your emergency.
To prevent  you getting in this position again, now really is the time to either hide your spare key or give it to a trusted neighbour.  Obviously if you are going to hide it, it needs to be somewhere safe where you will not worry about anyone being able to find it.  One option is to have either a key box or electrical panel in an unobtrusive place and protected by a combination lock. Other ideas for outside the home are either something like a fake rock or a "treasure hunt" system, where you hide a key to a shed or garage with your main key well hidden inside there.  You  could also keep a house key concealed somewhere in your car: as long as you haven't lost the car keys too!
It's also a good idea to store essential phone numbers – such as your insurance company and some local locksmiths – in case you get stuck like this again.
If you are struggling to pay for a locksmith and need money fast Loans 2 Go can help!  In particular if you are accepted for one of our online loans we aim to get the money into your bank account within 60 minutes.   Apply online here, call us on 0330 400 0403, email us on info@loans2go.co.uk or What'sApp us on 07976 200 597.   So in a  domestic disaster do not despair: help is at hand!
Previous 'Domestic Disasters' hints and tips: