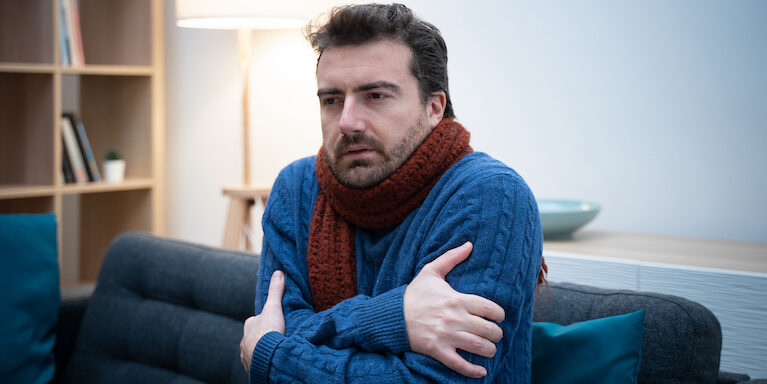 Published January 28, 2022
Help! Time for a new boiler? Here's what to do.
At Loans 2 Go we have an occasional series of articles called Domestic Disasters. A domestic disaster is the kind of thing we all hope will never happen to us, but sometimes it does. 
One of the domestic disasters you really don't need at this cold time of year is for your boiler to break down and need replacing. So in this article we take a look at:
Things you can do to prevent a boiler breakdown.

What to do if your boiler does break down.

What is the situation with gas boilers in the UK?
Things you can do to prevent a boiler breakdown
One of our previous Domestic Disaster articles covered the topic of boiler breakdowns. It focused on what kind of things you can do to prevent your boiler breaking down in the first place. 
These include:
Annual servicing by a qualified engineer.

The correct amount of space and ventilation.

Regular running, even during summer months.

Bleeding your radiators to avoid undue strain on the boiler.

Lagging your external pipes to prevent them freezing.
Careful maintenance of your boiler, and ensuring it has the best conditions in which to operate, can keep it functioning effectively for longer.
You can read more about the above measures in our article Domestic Disasters: Boiler Breakdown Advice.
What to do if your boiler does break down
But if your boiler does break down, what do you do? Suddenly you are faced with a cold house and no hot water. How can you get things fixed quickly?
The two main things you need to do straight away are to:
Find a qualified repair service who can be there as soon as possible
The good news is that if you have either home insurance or any kind of servicing/breakdown policy with your energy supplier it's possible that a boiler breakdown may be covered by your policy. With a bit of luck they may also have an emergency call out service. 
Otherwise you will need to find a local heating or boiler engineer as soon as possible. Try to find a recommendation by word of mouth, as this can turn out to be both more reliable and cheaper than contacting a company you know nothing about. Boiler repairs can be expensive, so if it is not covered by home insurance, bear in mind that a Loans 2 Go emergency loan may be able to help.
Arrange alternative heating / hot water in your home in the meantime
See if you have any portable electric heaters or fan heaters to keep your home warm. If not, ask around family, friends, and local social media groups to help. For hot water you will need to use either an immersion heater or boiled kettles. But all of these measures are expensive so should only be seen as a very temporary solution.
In the worst case, you may need a new boiler. But is it a good idea to buy a new gas boiler? Let's take a look . . . 
What is the situation with gas boilers in the UK?
As part of the government's plan to reduce carbon emissions to net zero by 2050, gas boilers are going to be banned from all new homes in the UK from 2025. Then, from 2035, no new gas boilers will be sold or installed at all.
But what does this mean if you need a new boiler now?
There are no current plans to phase out gas boilers in existing homes. However, we can expect to be increasingly encouraged to find alternative sources of energy for our homes. So it makes sense to consider possible alternatives before investing in a new gas boiler.
One obvious alternative is to look at electric heating. There are several types of this, some more advanced than others:
Traditional types of electric heating
There are many types of electric heating already in existence, including electric fires, storage heaters, fan heaters, underfloor heating, and immersion heaters. And many homes already have electric boilers. 
Electric heating can be expensive if you do not choose the best tariff. However, electric boilers are energy efficient as they turn almost all the electricity they use into heat, and many energy suppliers are now offering renewable tariffs, guaranteeing that your electricity is generating zero-carbon emissions
Heat pumps work by moving heat from sources outside your home into your heating and hot water systems. From April 2022, UK households will be offered subsidies of £5,000 to install heat pumps. The total cost of a heat pump starts from around £6,000, depending on the size and type of your home. So installing a heat pump may not cost significantly more than a new gas boiler.
Heat batteries operate along the same lines as large storage heaters, storing cheap nighttime electricity to provide a supply of hot water and heating to your home during the day as needed. 
Some pub gardens already use infrared heat panels, so there may be a future option to use these for indoor heating. 
As well as electric heating, various new alternative methods of heating are being explored. These are not available now but may be in the not-too-distant future.
Future possible heating alternatives
District heating systems – which are already used in Iceland with geothermal sources – supply hot water to local communities from a central source such as rivers, the sea or burning waste.
Hydrogen could potentially be used as a replacement for gas and flow through gas pipes into homes. But the technology of producing low carbon hydrogen is very much in its infancy.
A few UK counties may be able to access energy from hot underground rocks. Cornwall is one example, and already has a geothermally heated swimming pool in Penzance.
Coal mines and nuclear stations
Investigations are taking place as to whether warm water could be drawn from decommissioned mine shafts, or surplus heat from nuclear stations could be used for other purposes.
In this article we have covered:
Things you can do to prevent a boiler breakdown.

What to do if your boiler does break down.

What is the situation with gas boilers in the UK?
We hope it has been helpful in terms of advising you what to do if your boiler needs repairing or replacing, and how to try to prevent that happening in the first place.
Check back here soon for more lifestyle and financial tips from Loans 2 Go.