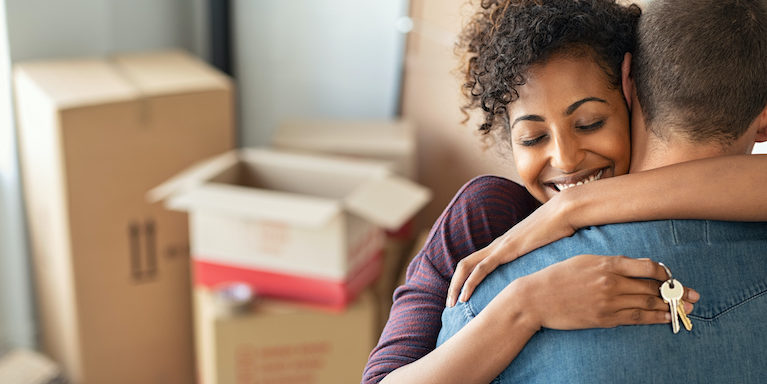 Is now a good time to move home? Can we?
Save money for your home with help from Loans 2 Go!
Think back to New Year 2020. The start not just of a new year but a new decade. Many of us felt excited about this year. There was a real sense of optimism: this year was going to be a good one and anything was possible. So we made some great plans for 2020 and maybe these included moving home. Perhaps the wheels were already in motion in March.
Then along came Covid-19 ……..
How did the Covid-19 lockdown affect house moves?
As lockdown took place, the government urged people not to move house. They wanted to see contract exchange cancelled or postponed, and house moves delayed during this period. Most removal firms also cancelled or postponed any move that had not yet started.
There were some exceptions to this, for example moves that had already been contracted and the parties involved were unable to delay. But the majority of the housing market – both purchase and rental – ground to a halt.
It is estimated there are 450,000 buyers and renters whose plans were affected by lockdown. Research by the property website Zoopla suggests that 373,000 property sales were put on hold during this time, with an estimated value of around £82 billion.
What is the current situation regarding house moves?
The government's COVID-19 regulations have recently been amended to enable people who wish to move home in England to do so. At the time of writing, the property markets in Wales, Scotland and Northern Ireland remain shut.
In England, estate agents are now open, viewings can take place, and removal firms and conveyancers are operating again.
This means that any transactions that had to be postponed because of the Coronavirus lockdown can now go ahead. If you have already bought a new home you are also now allowed to visit it in advance of your move to prepare it for moving in.
The new regulations also mean that if you are starting from scratch, then you will be able to view properties to buy or rent. Social distancing must be observed at all stages of the process, so government advice is still that initial viewings should be done virtually where possible. If you do go and visit a property then numbers from your household must be kept to the minimum. You should avoid touching surfaces, wash your hands regularly – ideally bring your own hand sanitiser. 
Social distancing and hygiene measures also apply if other people are viewing your current home. It's recommended that you vacate your property whilst viewings are taking place. Open all internal doors before the viewing and make sure that you clean surfaces such as door handles after each viewing.
If you would like to move should you start looking now or leave it till later?
There is never a right answer to this question! 
On the positive side, there are definitely properties available. According to Rightmove, the majority of people selling their homes before lockdown have decided to keep their properties on the market. And now that lockdown regulations allow estate agents to operate again, there will also be new properties entering the market.
So far, property prices do not appear to have been impacted by lockdown. Rightmove predicts that they will remain flat for some time, then potentially begin to rise as demand returns and pushes prices upward.
Another positive reason to start looking now is that interest rates are very low and there is a good range of low-deposit mortgages available. Fixing into a good mortgage deal now could enable you to save money for some time to come.
The downside of trying to move now is that viewing homes is more difficult because of the social distancing measures we described above. It is still possible, just more complicated than normal, and you may feel that you are not able to view as many properties as you would really like to.
There is also still a great deal of uncertainty around, both in terms of how we come out of lockdown over the next few months and what the long term impact will be on the economy. So you may want to weigh up carefully where everything is at – for example your job security, financial stability, and family situation – before deciding whether now is a good time for you to move.
We hope that the above information helps you to decide what to do about your house move. It is a big decision and nothing is ever certain, so whatever you do there will always be an element of risk. 2020 is certainly turning out to be an extraordinary year but, despite everything that is happening, it could still be the year when you move into your dream home.
Here at Loans 2 Go we are with you every step of the way. So do check back here soon for more lifestyle and financial tips from Loans 2 Go.