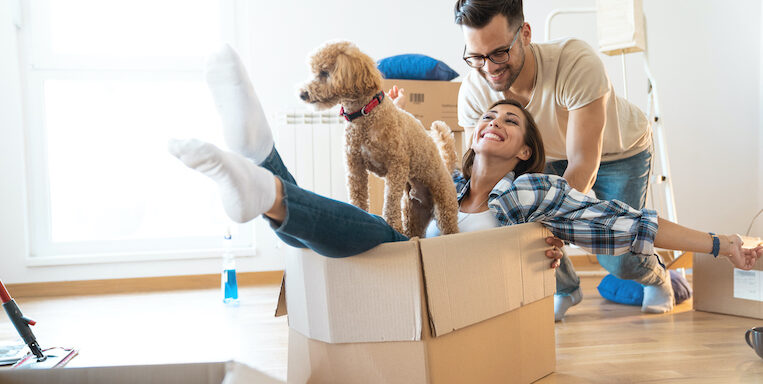 Published March 20, 2021
So how does the Budget help homebuyers?
Refresh your home with an online loan from Loans 2 Go…
Chancellor Rishi Sunak's Budget on Wednesday 3rd March was hailed as supporting the government's aim of "turning generation rent into generation buy". But is this true?
In this article we take a look at the two main changes the Budget made for people hoping to buy a home:
The new 95% mortgage

The Stamp Duty holiday extension
We will also revisit our earlier article How to get on the property ladder without a huge deposit to explain other schemes available for those wanting to buy a home.
The new 95% mortgage
The main piece of good news in the Budget for prospective home buyers is the return of the 95% mortgage. What this means is that a buyer will need to pay 5% of the cost of their home as a deposit, but they can use a mortgage (subject to approval) to make up the rest of the cost.
Before the financial crash of 2008, mortgages were readily available with low deposits or even no deposit at all. But the situation gradually changed after the crash, and the shortage of affordable new homes also contributed to the disappearance of low deposit mortgages. By 2020, a  first-time buyer would be lucky to find a mortgage with a 10% deposit, and many lenders were demanding 15%. 
According to The Nationwide, the average cost of a UK property is currently around £231,068. We can use this value to illustrate the significant financial difference that the new 5% deposit mortgages will make to the amount of deposit you need to pay:
Property value    £231,068

15% deposit

£34,599

10% deposit

£23,066

5% deposit
£11,533
If you have been saving hard towards a deposit for your first home, the new 95% mortgage could help to make the dream of home ownership a reality.
So why is the 95% mortgage back? What made it possible?
The government intends to underwrite these new mortgages by enabling lenders to pay the government to guarantee between 80-95% of the value of the mortgage. 
If for any reason the borrower could not continue to make their mortgage repayments, and the home had to be repossessed, the government would repay the lender that amount of the mortgage. This makes it less risky for lenders to lend money, as the government would cover this proportion of their loss if things went wrong.
The 95% mortgage scheme will open for new mortgage applications in April and run until the end of 2022. It is anticipated that most major lenders will participate.
It is also hoped that interest rates will be kept quite low on the new mortgages, with experts currently predicting in the range of 3-4%. Lenders will be obliged by the government to offer a five year fixed-rate mortgage deal, giving borrowers the opportunity to benefit from fixed repayments for the foreseeable future.
What's the catch?
There is no catch as such, but there are three conditions.
To be eligible for a 95% mortgage you need to be buying a home as your main residence. The mortgages do not apply if you are buying a second property or a buy-to-let property.

The value of the property must be £600,000 or less.

The mortgage must be on a repayment basis, not interest-only. 
You will also need to meet the standard credit and affordability checks. This can be a stumbling block for many mortgage applicants. 
If you think you may have problems with your credit score or being able to prove that you can afford mortgage repayments, then now is the time to start addressing these issues. You could spend the next year getting things sorted, ready to apply for a 95% mortgage well before the end of 2022.
One way to help repair your credit rating is to take out a small new loan, then prove you are creditworthy by paying it off regularly and reliably. So, for example, you could take out a Loans 2 Go unsecured online loan to pay off a credit card bill. 
In the short term, your credit rating would dip, because you are taking on more credit. But if you could then pay off this new loan over the next few months, plus the credit card bill you used it to pay for, you have then proven your ability to repay debt and this would positively affect your credit score.
The Stamp Duty holiday extension
If you are already in the process of buying a property, the good news for you is that the Stamp Duty holiday has been extended from the end of March until the end of June.
Stamp Duty is a tax that you have to pay when purchasing a property. It is based on the value of the property you are buying. If you are able to complete a property purchase by the end of June, you will not have to pay any Stamp Duty on the first £500,000 of the value of your property. 
In our article So What Exactly Is Stamp Duty? we explained what stamp duty is and how much you could save on buying a new property during its temporary reduction. 
But from the end of June the situation changes. 
 first-time buyers will not have to pay Stamp Duty on the first £300,000 of the value of the property they are purchasing. This threshold will remain indefinitely.

Other buyers will have a tax free threshold of £250,000 until the end of September, when it will revert to its permanent amount of £125,000. 
What other help is available to buy a home?
In a previous article, How to get on the property ladder without a huge deposit, we referred to other schemes that may be able to help you buy a home. 
Three of these schemes are:
Help to Buy
The government Help to Buy scheme is aimed at first-time buyers and also requires a 5% deposit. However, under this scheme you are able to borrow 20% of the purchase price (40% if you are buying in London) interest free for the first five years. 
Shared ownership
The shared ownership scheme enables you to buy a share of a home from its current owner, for example the council or a housing association. This share of the home is usually between 25% and 75% of the full value of the home, and you will need a mortgage to pay for your share. You will also pay a reduced rent on the remaining share, and will be able to purchase more of a share in the property later on, up to 100% of its value.
The shared ownership scheme is available to those with a household income of less than £80,000 (£90,000 in London) and who are either:
First-time buyers.

Previous home owners who now cannot afford to buy.

Renting from a council or housing association.
Priority is given to military personnel and also the long-term disabled, via the government's HOLD (Home Ownership for People with Long-Term Disabilities) scheme.
Right to Buy
The Right to Buy scheme enables council tenants to buy their home at a discount. Tenants usually need to have rented within the public sector for three years to be eligible for the scheme. The size of the discount on the property will vary depending on the type and location of the property.
We hope that the above information helps you to understand more about various current initiatives and schemes aimed at helping home buyers.
Good luck with your home search. In the meantime, for any short term financial assistance, do get in touch with us at Loans 2 Go. And remember to check back here soon for more useful financial and lifestyle tips.