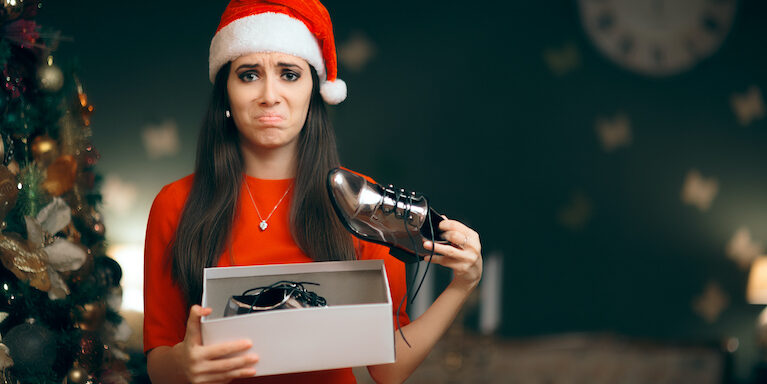 Published January 7, 2021
What to do with unwanted Christmas presents!
Save money in 2021 with help from Loans 2 Go…
Doesn't Christmas already feel like a long time ago? Even more so because it was such a strange Christmas this time. Most of us had to change or cancel plans, and were not able to see many of the people that we would have liked to.
But this may also mean that we ended up with a rather odd assortment of Christmas presents. Many gifts were probably either delivered to you directly from the supplier, or sent in the post by friends and relatives. Which is a lovely thought, but makes it really awkward if you have been sent something that either is not suitable or you don't like.
The worst Christmas presents ever?
A recent survey by Which? asked people about the worst Christmas presents they have ever received. The resulting list was startling. It included items such as:
Carpet cleaner

Ironing board cover

Used potato peeler

Bath cap

Second hand bra

Plastic bucket, mop and rubber gloves

Out of date bottle of Baileys
Hopefully none of your unwanted gifts are quite as bad as this!
When gifts are given face to face, especially with someone you know well, there is often the opportunity for the giver to offer to change it or to give you the receipt if you want to do so. But this can be tricky when a parcel just arrives for you in the post.
So what do you do with unwanted gifts? Particularly now we are in lockdown again for the foreseeable future.
Here are a few ideas that may help you to get rid of unwanted gifts and save money in the process.
Five things to do with an unwanted Christmas gift
Change it for something you like
This is much easier if you have a gift receipt for the gift. Which is something to bear in mind when you are giving gifts to others.
Interestingly, stores are not obliged to take back goods unless they are faulty or do not do what they are supposed to do. But most stores have a returns policy which will probably mean that you can exchange the item or get either a refund or credit note. 
If you don't have the receipt and don't want to ask the person who gave it to you, then you may still be able to get an exchange or credit note from the store. But they are within their rights not to do this.
If the goods were bought online then you will probably need to involve the person who gave it to you. If you definitely don't want to do this then it may be worth checking with the supplier anyway, to see if there is any way that they would be prepared to help.
So to summarise, you may be able to change your gift or even get a refund, but this can be dependent on you having the receipt, which may in turn mean that you have to be honest with the person who gave you the gift.
If you are not able to get a refund or exchange on the gift, another option is to regift it. Many people have a gift drawer or cupboard where they keep items to use as gifts. This can help you to save money as you can buy things in sales throughout the year then have a good stock of items ready for Christmas.
The  main thing to do is keep some kind of record of who bought anything you are regifting. It would be really embarrassing either to give it back to the person who gave it to you, or give it to someone else that they are likely to see over the Christmas period. 
So regifting can work really well, as long as you ensure that the original giver and the new recipient are from totally separate groups.
According to Which? around one in five people admit to having sold one or more unwanted Christmas gifts. There are many ways that you can do this. Three of the main ones are:
The best known online auction site is eBay, and this can be ideal for selling all kinds of goods. Our article Could eBay transform your financial future explains how to use eBay effectively. You never know, you may start off selling one or two Christmas gifts then get hooked! But there are various other sites out there too, such as Gumtree, Preloved, Depop and Craigslist.
Local selling opportunities
There are also many local online selling sites such as Facebook Marketplace, which can be excellent for a quick and easy sale. Also explore other local options such as newspaper listings, shop windows and community noticeboards; also car boot sales – when running – can be a great way of shifting goods fast and making money.
There are many websites that specialise in particular goods, such as WeBuyBooks, Music Magpie and Ziffit for items such as books, CDs, DVDs and games. It is also worth trying retail outlets for some goods. For example, some mobile phone companies may offer to buy unwanted phones for cash. So you could possibly make some money on your unwanted gift.
Instead of selling your gift you could try swapping it with someone else for something that you really want. This is a good way to save money if it means that you don't then have to pay for the item you really do want.
Some of the sites we have already mentioned – for example Gumtree and Depop – also have sections where you can arrange to swap items with other users rather than buying from them. 
Another option would be to arrange your own Swap Shop evening with a group of friends, either face to face or online. This can be a great way to reallocate not just unwanted gifts but various other items such as clothes, shoes accessories, kids stuff and household goods. Just make sure that if you are swapping any unwanted gift then the giver of that gift is not involved!
One other thing that you can do with an unwanted gift is to donate it to charity. Someone else  may love it, and you would be helping the charity to raise money at the same time. You may be able to donate it to a local charity shop or as a prize for a raffle or summer fair. 
Unless it's the kind of item on our worst Christmas present list above, then someone will be able to give it a good home.
We hope that the above ideas help you to sort out what to do with any unwanted Christmas gifts, and hopefully save money at the same time. 
Check back here soon for more lifestyle and financial tips from Loans 2 Go.