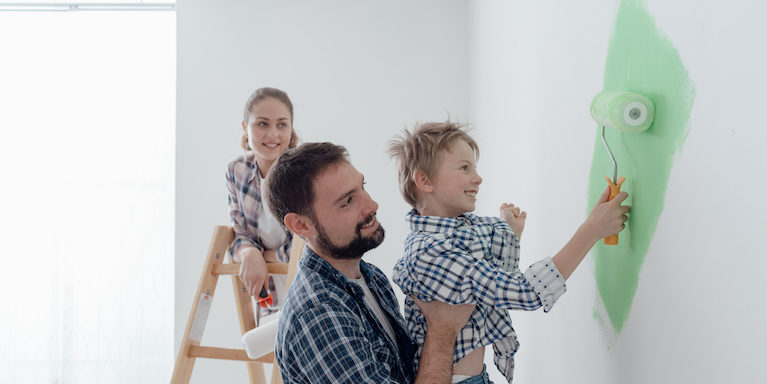 Your home: time to move or improve?
Improve your home with an unsecured loan from Loans 2 Go…
As the uncertainty about Brexit continues to rumble on, many homeowners who had been planning to move are now uncertain as to what to do. According to a recent survey by RICS (The Royal Institution of Chartered Surveyors) the housing market is "subdued" and house prices are likely to keep falling for another six months.
Across the UK, property sales are weak and there continues to be fewer enquiries from buyers. The average time it takes to sell a property is 19 weeks (21.5 weeks in the south east) – which is the joint longest period since the RICS started recording the data in 2017.
This means that it's a buyer's market. If you are hoping to buy a home and do not have one to sell, then you could be in a strong position to pick up a bargain. The same applies if you have the funds to buy an additional property – perhaps for the buy to let market.
But if you have been thinking about selling your home and buying another, then now may not be the best time to do that. You could find either that your home does not sell straight away – which makes it difficult to secure that new home of your dreams – or that you have to accept a much lower price than you had originally hoped.
Added to the above issues are the costs of moving which soon add up. You need to pay stamp duty if you are an existing homeowner and buying a home worth more than £125000. Then there are estate agents' fees which are typically between 0.75% and 3.5% of the selling price. Plus solicitors' fees and removal costs.
Finally you need to factor in the costs of the various improvements that you are likely to want to make to your home before you put it on the market so that it looks its best.
So moving house is an expensive business, and you need to carefully consider all the above if you are hoping to move over the next few months.
What many people are now doing is deciding to stay put and to improve their current home. This has two major advantages:
Firstly it can enable you to enjoy being in the home that you are in and – depending what improvements you do – make it more like the home of your dreams.

Secondly it means that as and when the property market becomes more buoyant again, your home will be more saleable and you will be in a stronger position to sell.
Obviously there are some things that you cannot change – such as the location or the neighbours! But you can make all kinds of changes to your home that will make your life easier and better, and also increase the value of your home.
You may decide on major changes such as a conservatory, loft extension, new bathroom or updated kitchen. Any of these can give you more space and better facilities, and bring a new lease of life to your home. If funding these improvements is a problem, then bear in mind that Loans 2 Go offer a range of unsecured loans that may be able to help.
If you are thinking more along the lines of making a variety of small improvements then do take a look at our recent article How to Improve your Home this Spring which contains lots of ideas for positive improvements you can make without spending too much money in the process.
It is up to you to decide whether you move or improve, and a decision that you need to weigh up very carefully. We hope that the above information helps you to make the right decision for you.
Check back here soon for more financial and lifestyle tips from Loans 2 Go.