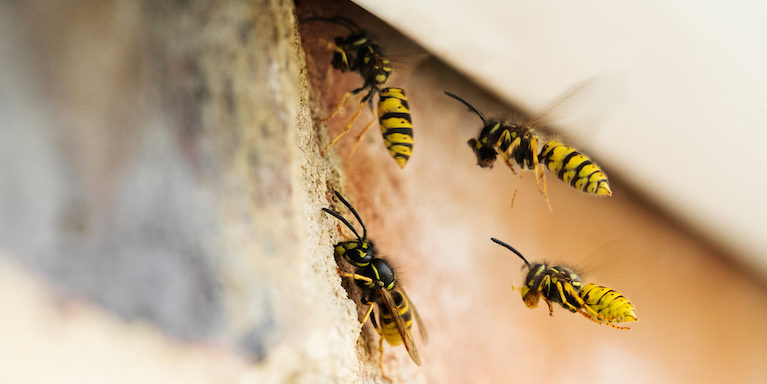 Published September 10, 2019
Domestic Disaster: If you find a wasps' nests
Loans 2 Go online loans give you emergency funds when you need them…
Loans 2 Go have an occasional series called Domestic Disasters in which we cover all kinds of things that can go wrong in and around your home. For example we have looked at:
In this article we are going to look at what to do if you find a wasps' nest. 
Although this summer has been rather variable in terms of weather, we have had some very hot days. As we all know to our cost, hot weather brings out the wasps. Especially, it seems, on BBQ days!
Warm weather causes wasps to be more active. It speeds up their metabolism and egg production and enables their larvae to develop more quickly. But as we approach the end of summer we begin to feel safe from wasps. Wrong!
If we get warm autumn days this enables a longer lifespan for wasps. Wasps usually die off when the first frost hits, but the longer this takes the more opportunity they have to grow both in size and number. 
However, by autumn the queens will be back in hibernation, which means the ordinary "worker" wasps no longer have a purpose. So they will be out looking for sugar and protein, and will inevitably gravitate towards people trying to make the most of the last days of sunshine.
But if you notice unusually large numbers of wasps in your home or garden, there may well a wasps' nest somewhere nearby. Be careful. A mature wasps' nest can contain literally thousands of wasps, with great danger of stinging. 
If you find something that looks like a wasps' nest, it's important to identify what type of nest it is. To the untrained eye, a nest is a nest. But if you come across a nest it is likely to be one of the following:
Paper wasps – an open nest with hexagonal cells. 

Hornets – a football shape surrounded by smooth walls.

Bees – bee hives have a distinctive waxy appearance.

Yellow jacket wasps – the location is usually concealed but it will be surrounded by a great number of wasps going back and forth. This is usually the most dangerous type of nest because of the sheer number of wasps it can contain.
If you do find a wasps' nest it is essential to get it removed as soon as possible. This is a complex process and requires professional help. If you try to remove it yourself you run the risk of painful wasp stings for yourself or your family.
So the best thing to do if you find a wasp's nest is to call in the professionals. Ask around for local recommendations or try a well-known nationwide business such as Rentokil. Give them as much information as you are able to and then leave the nest well alone until they are able to come and help. 
If you need any financial help to sort out your wasps' nest then get in touch with us at Loans 2 Go. This really is something that cannot wait! If you apply for one of our online loans and are accepted, we aim to get the money into your bank account within 60 minutes. Apply online here, or call us on 0330 400 0403 for more information and help.
For emergency financing when faced with any kind of  domestic disaster, Loans2Go are here to help! Please note, Loans 2 Go loans are subject to eligibility and affordability.